---

PRACTITIONERS  DIRECTORY:

(in alphabetical order)    (by
region)

| | |
| --- | --- |
| | USA |

Also see written works and published
books of our distinguished members.  Please note, there
are hundreds more Practitioners ordained by ETS over the years.  Listed
below are only those who took advantage of the Seminary's free web listing
service. You and your practice could be listed here!

---

Northeast
USA      Northeast
USA      Northeast USA
Northeast USA      Northeast
USA

Linda Lauretta, LCSW, Interfaith Minister

Offering Officiant services for weddings, baby blessings, rites of passage and commemoration of new endeavors.  As a counselor, I provide guidance during times of spiritual questioning, Life stage changes and Lifestyle Coaching through Vedic and Yogic principles. Over twenty years of experience with many cultures and wisdom traditions enables me to provide Interfaith ceremonies and rituals that are uniquely tailored to your path or philosophy. Reach me on my Interfaith Celebrations website or call me 845.863.6712. I do Skype sessions, too. Wishing you much joy and success in all you do.

---

Captain Arnold is a professional Captain licensed by the U.S. Coast Guard for more than 37 years. He is an Interfaith Chaplain, ordained through the Esoteric Theological Seminary, the Educational Institution of the Esotericl Interfaith Church. He moved from South Florida and now resides in the Queens, New York area. Additionally, and to the best of his knowledge, Captain Arnold is the only U.S. Coast Guard certified Captain, registered with the City Clerk's Office of The City of New York marriage license bureau as the only Chaplain who can "solemnize the rites of matrimony" for many couples that plan to have their marriage ceremony and wedding reception on board a cruise boat in the New York tri-state area in addition to many land facilities that also require the services of a Captain.

Captain Arnold not only performs wedding ceremonies at many different land facilities but has also become the "house Officiant" for many wedding catering facilities that are located in a nautical atmosphere where the request for a Captain is often made.  He is also the "exclusive" wedding Officiant for several of the major cruise ships such as Norwegian Cruise Lines, Royal Caribbean Cruise Lines, Celebrity Cruise Lines and Princess Cruise Lines, all of which sail out of the New York tri-state area. He is extremely active and has performed as many as 2,3, 4 even 6 wedding ceremonies in one day. He has the number one website on Google when it comes to nautical weddings and if you check Google and just type in; Nautical Weddings, Boat Weddings, Captain and Weddings, you will see that he comes up number one….by the way, every couple he marries is on his website so check it out, you'll find it very informative.

His phone number is (718) 767-6242. The Captain's wedding website is at http://www.nauticalweddingbells.com . Please be sure to look for it.

---

John
Arthur Britton works in Hopewell, NJ. I'm an Ordained Gnostic Minister, Angel Card Reader, a fan of Sylvia Browne and her teachings. I perform Weddings, Civil Unions, Baptisms, Angel Card Readings. You can contact me via my Twitter Page.

---

Reverend Karen Chase
is ordained as an Interfaith Minister by
the Metaphysical Interfaith Church, licensed in New York and granted
reciprocity in additional states. She majored in Theology at New
York Theological Seminary. She has been trained in the beliefs and
traditions of virtually all the world's religions and traditions.

Reverend Chase has worked with a variety of local religious groups as a speaker and service leader and is well known for her liturgy and worship ceremonies. A trained public speaker, she's performed numerous services in front of a wide array of congregants and guests Additionally, she offers her services for weddings, vow renewals, commitment ceremonies, baby namings, and more to the New York metropolitan area as well as Connecticut and New Jersey. She will personally attend to every detail to ensure that the presentation of your ceremony is flawless.

Reverend Chase's website can be seen at http://www.cityceremonies.com/ and you may reach her at 212-995-0303 if you wish to enlist her services.

---

Adam Davids

Rev. Davids is a practitioner with years of experience counseling and advising.  He is a dynamic speaker who takes an ecumenical approach to religion and religious ceremonies.

Interfaith Minister

111 East 14th Street, 222

New York, NY 10003

Email  me: adam AT adamdavids.com

---

Reverend Stazia
DeVine was ordained by
the Esoteric Theological Seminary in 2001 as a Metaphysical Interfaith
Minister. She is a Wiccan Priestess who is a member of The Church
of El, the Fellowship of Isis, the New York Interfaith Center, the
Esoteric Mystery School, a Native American Study Lodge and the Pagan
Federation. She is a member of the Long Island Open Circle, and
is helping other groups in her area to become established spiritual
communities. As a member of the Unitarian Universalist faith she
has created and maintained an outreach for spiritual search for
people of all faiths including those of the Earth-based religions
in several CUUPs groups. She has worked as an Adult Religious Educator,
Youth Religious Educator and currently is setting up a program in
her area that allows for religious education for Wiccan and pagan
children. She works with local religious groups as a speaker and
service leader and is well known for her liturgy and worship ceremonies.
Additionally, she offers her services of weddings, child dedications,
funerals and house blessings to her local community on Long Island,
NY.

In addition to the work she does in her local area, she owns and manages an online ministry for people of all faiths called The Spiritual Sanctuary. In The Spiritual Sanctuary, members share through emails and postings to message boards and make contributions to a website that serves as a library of religious information on many paths of religious faith including Bahai, Buddhism, Christianity, Judaism, Islam, Hinduism, and Eastern Traditions. The Spiritual Sanctuary's site on Confucianism is one of the web's top sites on that subject and is utilized by many religious education programs including the University of Florida. The site was created to join people all over the world who believe that love is greater than hate and to create a ministry for those who cannot otherwise join in worship with those of open faith. Stazi can be reached at
email
me or at The Spiritual Sanctuary at http://thespiritualsanctuary.org

---

Donna
DiCocco Professional Name:
Aspasia     I live in Upstate New York, with my
two great kids, my adorable mini Australian Sheppard and my seven-toed,
black cat. I have over 30 years experience as a Nurse and I have worked
in special education and with children ages pre–K to high school.
I have lived a hundred different lives in this one life alone and
I have an unquenchable thirst for life, love and learning. I want
to share with the whole world all my life's impressions and to
be a guide to all who shall call upon me to help them. I have over
28 years experience in many facets of metaphysical practices and spirituality.
I am a Master Spell Crafter and Certified Psychic Counselor. I have
recently been baptized in the Church of the Way. I am continuing my
Spiritual Journey with the Esoteric Theological Seminary as a postulant
in the Eternal Order of the Magi. I am a professional practitioner
of Tarot Cards, Talk healing and common sense advising. My readings
are from the heart and soul and my life is dedicated to serving, the
Gods, humanity and the earth. I am a great listener and you can email
me with any questions.

---

Rev. Violet Grant

The Bible methodology of pastoral counseling and healing enables me to apply the life-giving message of the true Gospel through Christ's love to my ministry. I believe in communicating understanding, communicating caring matters to the well-being of others where they are having difficult circumstances, and guiding them towards expressing their feelings directly to God as a means to resolving their difficulties. Therefore, my intuitive practice is one encouraging self-guided spiritual and emotional healing. I can be contacted by phone, 718-284-8502

---

The Silver Branch Center features classes
and workshops in earth-centered spirituality and spiritual creativity.
A tree pulls from the nourishment of the earth and then uses it to
grow and reach out into the forest. The Silver Branch Center pulls
from the nourishment of the local and online spiritual, creative communities
and seeks to serve as a connecting point for others.


Silver Branch Center was founded by Rev.
Leslie J. Linder, M.Div. Leslie earned her Master of Divinity at Vanderbilt University and is ordained as an Interfaith Minister by the Esoteric Interfaith Church, Inc. She is a certified creativity coach and can offer either creativity coaching or spiritual direction mentoring by phone or online. Leslie is also willing to work with people in the Maine and New England area who desire ordained services such as marriage or handfasting, handparting, coming of age, croning, funerals, passage ceremonies, etc.

---

Reverend Edward Litvaitis is ordained as an Interfaith Minister by the Esoteric Interfaith Church.  I am an Officiant who performs Interfaith, non denominational weddings an vow renewals, to join couples in love in holy matrimony.

My wedding ceremonies capture the essence of each couple as they leap into a new dimension of their relationship. I believe family contributes to a strong marriage and we include family members (mother's, father's, children) in the ceremonies by incorporating touching ceremonies such as "candle lighting, sand or wine".  You are ensured a touching and personalized ceremony.

Please visit my website, www.wemarryu.com or feel free to call me at 518-810-6410 for more information about my wedding ceremonies and officiant services.  I am located in the beautiful mountains of Saratoga, New York.

---

InterFaith Action:
Walk, Jog, Visit, Clean. My name is Rev. Nate
Steinwachs, ordained as a minister by the Metaphysical Interfaith
Church, and I'm a resident of New York City. The InterFaith Action
group's goal is to get outside and be among all people in New York.
We have walking and jogging groups. We have a group dedicated to visiting
the homeless and providing food and beverage packets to them. We have
a group dedicated to cleaning New York's parks. All of our projects
are intended to create and restore positive energy and let people
know they can choose love over fear. If interested in joining InterFaith
Action, to either walk, jog, visit or clean, please email
me.

---

Lorraine Valente, MS, ACH, RMT in NEW JERSEY. Lorraine's work and educational experience is eclectic.  She holds a Bachelor of Arts in Psychology with a concentration in Abnormal, Deviant Behavior and Addiction.  In addition, she holds a Master's of Science degree in Psychology with a concentration in Health.  Her Master's Capstone, "Medicating ADHD Children: Potential Consequences and Alternatives", culminated in the following powerful educational program: "ADHD Alternatives ~ Learning2Live © "; creating a safer, healthier world for children diagnosed with Attention-Deficit Hyperactivity Disorder (ADHD).

Website: http://ADHDalternatives.webs.com/

Facebook:
www.facebook.com/ADHDAlternatives

Twitter:
http://twitter.com/ADHDAlternative

As a Holistic Health, Intuitive Arts Consultant, she offers health assessments and guidance. As an Advanced Clinical Hypnotherapist (ACH), she offers hypnosis for weight loss, smoking cessation, phobias, PTSD, and more. While her hypnosis and past-life regression sessions are offered in-house only, she extends her intuitive counseling / readings sessions, animal communications, and guided-visualization healing sessions via distance ~ phone, e-mail, SKYPE, with  individual recorded voice sessions for those across the Globe.

Website: http://EnergyHealing4u.webs.com/

E-mail: EnergyHealing4u@aol.com

Lorraine is also a Professional Counseling Astrologer and Reader offering voice recordings and printed consultations/readings. As an Ordained Interfaith Holistic Healing Minister, she offers Pet Adoption and Remembrance Services, Home Blessings, Corporate and Private Events and other metaphysical and spiritual Ceremonies designed specifically for you.

Also a Usui Reiki Master Teacher, class certifications in Reiki Level's I & II are offered.  As a guest speaker and freelance writer/editor, she is available for hire to speak/write on any of the above topics.

Contact Information: (732) 598-2720 or e-mail: EnergyHealing4u@aol.com or FuchsiaStars@aol.com

Blog: http://FuchsiaStars.blogspot.com/
Website: www.FuchsiaStars.com (under re-reconstruction 2013)
Website: www.KarmicAstrology.info (under re-reconstruction 2013)

---

Mid-Atlantic
USA     Mid-Atlantic
USA     Mid-Atlantic USA     Mid-Atlantic
USA     Mid-Atlantic USA

---

| | |
| --- | --- |
| Rev. Barry Chaffee, CLC is an ordained minister and certified life coach.  He is also an experienced interfaith wedding officiant. Barry has a Master of Divinity degree from Luther Theological Seminary in St Paul, MN. He is an Interfaith Minister with the Community Church of Peace near Philadelphia.  Barry also runs a church directory publishing business for the metro Philadelphia faith community.  He can be contacted through his website at www.spiritual-director.org   Rev. Barry is available for pastoral care sessions online or in person.   He is also available for speaking engagements on the topic of "Minding" your Business, a spiritual approach to the business world.  Email Rev. Barry at RevB[at] spiritual-director.org | |

---

Lou
Foster is a Spiritual-Interfaith Minister, ordained through the Esoteric Interfaith Church, living in King George County, Virginia. I am a teacher whose ministry focuses on helping others learn how to heal themselves. My spiritual foundation is the holistic medicine wheel of many paths, including but not limited to Christianity, Shamanism, Wicca, and Paganism.I am dedicated to self-improvement, and aiding others in reconnecting to their life path's purpose.My goal is to build a healing & retreat center for people to learn, camp, and walk the paths of holistic and spiritual healing; [in hopes that religion and stereotypical boundaries are left outside the threshold of the grounds] to unite everyone who seek to re-connect with Spirit and themselves.I am available for wedding ceremonies, (traditional and alternative) Handfastings, the Blessing of Homes, Reiki and Crystal healings. For those who are financially challenged I encourage you to contact me for consultation at herbfancyATyahoo.comPlease visit at http://herbfancy.myshopify.com/ if you are interested in handmade holistic products, services and information, where you are empowered to know what goes in and on your body. Blessings to you with love, light and lots of laughter. Aho!

---

Reverend Gothi James Granderson  is an ordained Gothi Priest and Spiritual Minister, as well as a Reiki healer based in the Baltimore / Washington DC area. James began his spiritual studies and practice at the age of 7 and has since performed various spiritual services and healings in numerous and diverse venues. James has engaged in religious study in both the United States and abroad in China, and has held extensive dialogue with priests, monks, and shamans in temples, ashrams, spiritual centers, and other houses of worship. Though he heavily focuses on his Norse / Asatru / Heathen faith and does his work within that context, James has extensively studied other religious traditions and will readily offer his services to those on other spiritual paths. James is happy to offer the following services:·         Asatru / Heathen specific services (Blot, baby naming, etc.)

·         Healings

·         Meditation Instruction

·         House, Room, or Property cleansing, hallowing, blessings

·         Pacification or Banishment of negative / unwanted spirits

·         Spiritual guidance /counseling

For Asatru / Heathen weddings please contact in considerable advance.

James also plans to establish a Kindred and Hof in the not so distant future! If you need James's services or further information and want to contact him, please do so via email at jgrandyard@gmail.com  . Website coming soon!

---

Yvonne
James-Henderson: Rev. Dr. of Divinity and Theology, former staff member and former student of the Esoteric Theological Seminary. Living in the Washington, DC suburbs, she attended LDS Seminary, is an ordained Metaphysical Interfaith minister with doctoral degrees in Theology and Divinity, since 1999. She is a charter counsel and board member, as well as HPS, in The Order of the White Moon. A scholar of ancient mysteries, Doula, herbalist and Reiki Master, she has dedicated her life to the study and teaching of the Esoteric. Her ministry, Sisters of the Burning Branch, dedicated to the Feminine Divine, Priestess training, spiritual counseling, personal empowerment and energy healing. Please email
me  or see my website   http://goddessschool.com/

---

Norman Hesse — Ordained as an Interfaith Minister by the Esoteric Theological Seminary in 2002, he works in Bristow, Virginia. Dedicated to helping seekers find or reconnect to their life's purpose and well being.Contact
Minister Norman

---

Jon Japha

I am currently a seventh grade history teacher at an Episcopal school in Alexandria, Virginia. I act as an advisor to ten students, helping to usher them through the difficult morass of middle school. In addition, I am a speaker at our weekly chapel services. My chapel talks about the school's honor code and the importance of empathy hopefully inspire and guide the young students. Becoming an ordained minister will certainly help in this advisory role.  I also hope to perform a wedding ceremony and alleviate the frustrations I felt in my own search. Contact me via email.

---

Melissa Kepley holds a B.A. in Comparative Psychology and Religion from The College of William and Mary, and a Doctorate of Divinity from the Esoteric Theological Seminary.  She is an Ordained Interfaith Minister, and a Certified Transpersonal Hypnotherapist, with a private practice located in Hampton, Virginia.  She is certified as a Transpersonal Hypnotherapist through the National Association of Transpersonal Hypnotherapists, and a member of the American Association of Professional Hypnotherapists and the National League of Medical Hypnotherapists.  She is also the Eastern Regional Director for The League of Women Clergy.

She has studied World Religions for over fifteen years, with her most extensive study through her formal education. Considered by the study of the Psychology of Religion to be a "Spiritual Quester" before settling into her ministerial path, Melissa has gained a great deal of knowledge regarding religious tradition and dogma, including many aspects interwoven within Metaphysical study such as Biofield Energy Therapy, Crystal Therapy, Past Life Regression Therapy, and Energy Psychology techniques.

Rev. Melissa's other passion is working with animals, and she has over sixteen years experience as an animal care professional, with the foundation of her experience as a veterinary nurse and behavior consultant.  Her uncanny ability to connect with a wide variety of animals has allowed her to work with many species, and she loves nothing better!  She jokingly admits, "The only natural talent I possess is understanding animals"!

She offers counseling and hypnotherapy through her private practice, Transformations Hypnosis and Healing Center located in Hampton, Virginia.   While her hypnotherapy and past-life regression sessions are offered in-house only, she extends her intuitive counseling/readings sessions, animal communication sessions, and healing sessions via distance.  For more information on her offerings through the Center, please email her at:
, or call the Center at 757-838-3450.

Rev. Melissa is also available for weddings, handfastings, celebratory unions, funerals, and life passage ceremonies within the State of Virginia.  Please contact the Center at 757-838-3450 for more information.

---

Dr.
Vance Larson is a Licensed Chaplain, Life Coach and Hypnotherapist. He offers in person, telephone and Skype sessions giving guidance in the areas of health, relationships, spirituality and the process of death and dying. He holds degrees in Divinity, Theology and Transformational Counseling. In addition, he has specialized certifications in Addictions and Cancer Care. He spent 20 years of his life dedicated to the AIDS, Addictions and Cancer communities on both the local and national levels.Today he works in private practice, as well as providing services to various Mental Health and Addictions organizations. Dr. Larson can be reached via his Concierge Coaching website (where there's a nice audio recording of his voice talking about what he does) or his Maryland Life Coaching website.

---

| | |
| --- | --- |
| Horatio Delano Lewis, PhD, ThD, a Jefferson Award recipient for Community Service, is currently an Adjunct Associate Professor of Spanish and Education at Delaware State University. He is also a Humanities Scholar at the Delaware Humanities Forum, an Independent Ordained Interfaith Minister and the Founder and President of the Fairness Institute, a Consulting/Training and Mediation/Arbitration Group. As an Ordained Interfaith Minister, the Rev. Dr. Lewis officiates/conducts customized marriage/civil union ceremonies, professional counseling, baptism, confirmations, youth groups, communions cremation/burial services, spiritual prayers/healing, church services, home blessings, and other religious/spiritual activities from 11:00-4:30pm, Sunday-Saturday or by appointment. His bilingual ministry includes Buddhism & Eastern Religions, Christianity, Islam, Judaism, New Age, and Other Faiths. Dr. Lewis who has taught at over a dozen universities and schools throughout the country, including Brown University, has led several Delaware statewide Governor's Commissions (e.g. Child Protective Services, Civil Rights, Hispanic Affairs) and administered millions of dollars in federal grants for Delaware School Districts and Community organizations as an Education Associate for the Delaware State Department of Education. He is a published author, poet and former News Journal (Gannett Co.) columnist. Dr. Lewis was educated at several universities in Latin America and the United States and holds an Education Certificate from Harvard University among five graduate, undergraduate degrees and other professional credentials. For more information, please contact the Rev. Dr. Lewis at 302-559-4074, or via my email or www.horaciolewis.com, or www.fairnessinstitute.com | |

---

Rev.
Nancy Rose Little Opeka, RMT, IARP
I am an ordained non-denominational minister
by ETS. I am both a Spiritual Healer & Counselor. I have my
certification as a Chakra Healer & Crystal Healer. I have been
a Reiki Master since 2001, and I am certified and insured through
the International Association of Reiki Practitioners. I practice
all of these modalities at my home in Damascus, Maryland. I am currently
studying Aromatherapy and look forward to incorporating it into
my practice.

I happily perform weddings in the Washington, DC Metropolitan area and am famous for my Tarot Bags. Contact me by Facebook for more info.

I have studied various religions and spiritual practices and I am an active member of the Sufi Healing Order.

---

Rev. June Ann is a psychic medium and an ordained spiritualist minister, located in the northwest region of New Jersey. If you've never sat for a reading with a medium…it's rather like a family reunion, emotional and joyous. Memories are relived, connections are made, and one realizes that their loved ones are not lost to them.

June Ann receives detailed messages for her clients. Compassionate and friendly, June's goal is to connect sitters with their loved ones on the other side, assisting her clients in realizing that life does go on, even after 'death'. Her intuitive skills were inherited from generations of female family members.

Through mediumship, June Ann has helped many clients who have suffered the loss of a family member or friend. Feel free to bring photos of your loved one to your reading. By touching these photos, June can access information for you.

June Ann's psychic abilities enable her to assist those who are going through difficult times, and those who have questions regarding relationship and career issues.  njpsychicmedium.net

---

Dr Deborah Reynolds:
 Dr Reynolds has a PhD in Holistic
Health and Metaphysics, and a PhD in Theocentric Business and Ethics
as well as a Doctor of Divinity.  She is opening a Holistic
Health and Wellness center in the beautiful Poconos mountains in Pennsylvania.
This is a non-profit Healing Center and ministry dedicated to
the promotion of physical, mental and spiritual well being of the
community. Through a variety of healing modalities such as Reiki,
Reflexology, Therapeutic Massage, Holistic Massage and breathwork,
Tai Chi, Yoga, Chiropractors and acupuncture, the center offers powerful
energy work and healing. We also offer psychic and spiritual consultations,
counseling and channelings. Your support, prayers and contributions
are greatly needed and appreciated to continue our spiritual outreach
to the community.  All donations are tax deductible. Please contact
her toll-free at 1-877-74REIKI  or  1-570 619-SOUL

---

Sharon
Fallon Shreve is a modern
day Priestess whose heart and heritage are deeply rooted in ancient
Ireland and Celtic spirituality. Her studies and experiences in
mysticism are what fuel her passionate desire to serve humankind.
She is a true Keeper of the Sacred Flame, Lady of the Woods, and
a compassionate healer who works with the energies of the Emerald
ray.

Sharon was ordained an Interfaith Minister by the council of The Esoteric Theological Seminary of M.I.C. in August, 2000. She is also a High Priestess initiate in the Washington, DC based Circle, Ladyship of Grace, and an associate minister in the Madonna Ministry. She is a dedicated Light worker and founder of Illumined Ways, the inspiration for her service.

Additionally, Sharon is a Spiritual Empowerment Coach, writer, Rosicrucian, member of FOI (Fellowship of Isis), certified in Reiki, and a devout practitioner of TM. She has studied with Deepak Chopra, MD, as well as at The Institute for the Advancement of Service, and has completed training and served as a Unity Chaplain. She has also earned certification in the Integrated Awareness Technique, a nationally acclaimed course developed to enhance intuition.

In June 2005, Sharon will have completed a two-year in-depth experiential course in the priestess process with facilitator Lisa Michaels, creator of The Elemental Forces of Creation: An Alchemical Priest~ess Mystery School.

A highly-skilled empath and ultra-sensitive, Sharon is a continuing student of metaphysics who has dedicated the past dozen years to developing spiritual insight.

Her ministry includes performing ceremony and ritual, as well as facilitating individual sessions and healing and drumming circles which help empower individuals and raise the vibration on our planet. Sharon is also adept at helping to gently open hearts which are cloaked in fear due to emotional trauma, abuse, and/or neglect. She is a trail blazer, a present-day pioneer who courageously travels the spiritual path of all that is.

Sharon lives outside the Washington, DC area in historic Clifton, Virginia. She privately sees clients, coaches students, and facilitates healing circles from her home "Illuminata", a 7-acre wooded sanctuary dedicated to Nature Spirits, Wee Folk, and Universal Peace.

To learn more about Sharon and the services she offers please visit: www.illuminedways.com

---

 

Southeast
USA       Southeast
USA      Southeast
USA      Southeast
USA      Southeast
USA

Fr. Timothy Harris

Bishop-Elect Timothy Harris, M.A., D. Min., Th.D. is an ordained Old Catholic priest in the Independent Sacramental Movement (ISM) and an ordained Interfaith Minister. A dedicated advocate of education and lifelong learning, Father Timothy has taught history and philosophy at state universities, private colleges, community colleges and is a skilled professional research librarian and public speaker.

Bishop-Elect Timothy earned a B.A. and M.A. in history and a B.A. in philosophy from Eastern Kentucky University, and an M.S. in Library Science from the University of Kentucky. He attended Holy Apostles College & Seminary for graduate theological training. In 2015, Bishop-Elect Timothy pursued further theological training at the Esoteric Interfaith Church, Inc. earning a D. Min, Th.D. and Ph.D. in Metaphysics.  He co-founded the Chapel of Saint Patrick in 2017 in Greenville County, South Carolina.

Actively involved in the Ministry of Teaching, Bishop-Elect Timothy is full-time faculty at ETS and Assistant Dean for Religious Studies.  Soon to be consecrated a Bishop and continue serving the seminary as the Dean of Religious Studies, he is available to perform the following services (additional services and travel considered upon request):

Weddings (Interfaith, Non-denominational, Christian or secular)

Christian and Spiritual counseling (via phone, SKYPE, in-person or email)

Baptisms

Funerals

House Blessings

Career guidance and advice

Speaking engagements and lectures

Additional services unique to your situation will be discussed. Please contact me via Email at  fathertimothy@northernway.org or call me at (864) 283-9313.

---

Mary Ellen Armstrong  is an "Intuitive" who inherited her gifts from her Celtic and Sicilian ancestry. Raised in a home where psychic phenomena and mediumship were the norm, Mary Ellen was allowed to roam free to explore and fine-tune these gifts, and began doing readings at age twelve. She also developed a keen sense of tuning into animals – thus her work with saving, and "reading" animals began!

Mary Ellen is an ordained Interfaith Minister, Wiccan High Priestess and spiritual counselor, but she does not label herself under any particular tradition. All her readings are honest, confidential, no-nonsense, and sometimes humorous! Her phone number is 919-542-1754 and Mary Ellen can be reached from noon till midnight, East Coast Time, Monday through Saturday or Email
me. www.blogtalkradio.com/maryellen

---

Captain Arnold
is a professional Captain licensed by the
U.S. Coast Guard for more than 35 years. He is an Interfaith Chaplain,
ordained through the Esoteric Theological Seminary, the Educational
Institution of the Metaphysical Interfaith Church. He recently moved
from South Florida and now resides in the Long Island, New York
area. Additionally, and to the best of his knowledge, Captain Arnold
is the only U.S. Coast Guard certified Captain, registered with
the City Clerks Office of The City of New York marriage license
bureau who can "solemnize the rites of matrimony" for many couples
that plan to have their marriage ceremony and wedding reception
on board a cruise boat in the New York tri-state area.

Captain Arnold is also a professional entertainer and "Magic and Illusions" are his specialty. He performs his magic on many luxurious cruise boats that sail in and around the New York area, also in restaurants, nightclubs, for corporate events and private parties. The Florida Chapter of the International Brotherhood of Magicians (a worldwide organization) has named him "Magician of the Year". His colleagues say, "Captain Arnold truly adds beauty to astonishment, he adds drama to a deck of playing cards and a handful of coins. He not only performs his magic with his hands, but also with his heart. You must see the Captain perform for only then will you know real magic".

The Captain says, "being an ordained Interfaith Chaplain and a Magician certainly go hand in hand, for if after I perform the marriage ceremony, should the couple change their mind, I can always make one of them, the bride or groom disappear. (Just kidding of course) where's your sense of humor." The fact is, the Captain says "I never perform magic when I'm officiating at weddings. Marriage is serious business and I conduct myself accordingly". Performing magic on the other hand is certainly at the other end of the spectrum from officiating at weddings, but that's the time when I can pull out my magic wand and make adults feel like kids again." How can I pass that up!

Each year Captain Arnold travels to South Florida during the winter months of January and February, and he entertains and performs his magic in various Florida restaurants, nightclubs and for private and corporate events. He also officiates for weddings. Captain Arnold's magic website can be seen at http://www.captainarnold.com/ and you may reach him via email. If you wish to speak to him, his phone number is (516) 413-4555. The Captain's wedding website relative to performing marriage ceremonies is at http://www.nauticalweddingbells.com . Please be sure to look for it.

---

Staci Backauskas
is a writer and teacher whose ministry focuses
on helping others learn how to heal themselves. Her spiritual foundation
encompasses many paths, including Sufism, Buddhism, Native American
and Wicca. Staci has also studied extensively at the Unity Center
of Manhattan with Eric and Olga Butterworth.
Also a career counselor, Staci wrote a very popular eBook, The
Nitty Gritty Tool Kit For Career Transition, which puts a
spiritual twist on finding your life's work.  Her first two novels,
The Fifth Goddess, and Desire's Dream Job have five
star reviews at Amazon.  She has just released her latest novel,
Where
Fat Girls Haven't Gone. The book is as outrageous as Staci,
so grab a copy and you'll see what I'm talking about! Staci is a member
of National League of American Pen Women. Staci is available for private
counseling, career counseling and Lakota Divination readings both
online and in the Tampa Bay area.
You can learn more about Staci's work or contact her by email

---

Rev. Dr. Steve L.
Brannon As a neo Gnostic,
I seek people of like faith and spiritual journey to build a network
and fellowship. Gnostic spirituality influences are found in many
of the arts, the Emergent Conversation/Movement, Jung's writings,
Creation Spirituality, The Greater Community Spirituality, the Course
in Miracles, and many other present day spiritual endeavors. I hold
a Doctor of Divinity and am ordained
a Spiritual Minister. My Master's degree is in Education with emphasis
in agency counseling from Southwestern Oklahoma State University.
At Oklahoma State University I studied in a Ph.D. program in Counseling
Psychology (1980-1982). I completed the required courses for the Doctor
of Education degree in Human Resource Development at Vanderbilt University
in Nashville, Tennessee (1993), leaving as an ABD. Formal education
and career are important. However, realizing my spiritual life and
faith are the most important aspects of my life, I am very grateful
that ETS provided the avenue for my completion of a graduate degree
in my choice of spiritual practice, Gnosticism.
My goal is to complete a book on contemporary neo Gnostic knowledge
and author articles and blogs, drawing from my personal experience,
that Gnosticism is a viable spiritual path for those truly devoted
in a life of direct communication with the Divine. In Tennessee and
elsewhere I am seeking those of like faith to establish a network
of neo Gnostic writers and artists. Since my ordination, I serve my
community by ministering to inmates and residents of local nursing
homes and a veteran's home.
I am available for wedding ceremonies and facilitating any ceremony
that celebrates and honors all of life's passages. Please contact
by
email.

---

Rev. Louisa
A. Dyer, MA – An Ordained Metaphysician with Masters Degree in Holistic
Psychology and 20+ years of diverse clinical experience, Louisa
offers intuitive and pragmatic counseling, coaching and training,
as well as Akashic Record Readings. Specializing in B.L.I.S.S. –
Bringing Love Into the Shadow Self – extremely effective for deep-seated
fears, victim/scarcity mentality, addictions, codependency, depression
and creative blocks. Also using Perelandra Flower Essences, Microbial
Balancing, Energetic Balancing and Body/Soul Fusion Processes, along
with MAP and Soil-less Garden Techniques of working directly with
Nature for wholeness on all levels of being – physical, emotional,
mental and spiritual. Meditation and Pendulum (Kinesiology) Training
for centering, knowing the truth and relaxing, often utilizing David
Hawkins scale of consciousness. Energetic Clearings for People,
Homes, Land, Projects and Pets. Other Life Work; Weddings/Blessings/Sacred
Ceremony in the Asheville, North Carolina area.

Opening to the love that we are brings an awareness of constant well-being. We do not have to create self-love; it already exists as part of us, the Divine within. Loving Self heals all wounds, frees us from illusions, and connects us with the Abundance of Source. I facilitate this process. Extensive experience with spiritual concerns manifesting as addictions, depression, disabilities, personality disorders, and behavioral or abuse issues. To contact,
email
her or visit www.louisadyer.byregion.net or call (828) 658-1280.

Also see Louisa's new book, Themes of Illumination, Opening to God Within: 52 Weeks of Divine Contemplations. It is a deeply spiritual, nonreligious workbook for awakening to the Truth of Self – one week at time. (www.trafford.com/05-0696)

Rev. Louisa A. Dyer, MA

828-658-1280

---

| | |
| --- | --- |
| Steven M. Harris, Th.D., D.Min., LFD  I am a Licensed Funeral Director with over 35 years in the funeral profession. I am located in the Tampa Bay area of west central Florida. I live in New Port Richey, Florida and work in the Clearwater / Palm Harbor area. I graduated Summa Cum Laude from New England Institute of Applied Arts and Sciences with credentials in Mortuary Science. I have also received credentials as certified Chef from the School of Creative Arts at Ashworth University, Certified Pastoral Counselor from St. Gregory Academy, BA in Biblical Studies from Missionary Chapel Seminary, M.Min. and D.Min. from Quest Ministries, ULC Seminary, and Th.D. from Esoteric Interfaith Theological Seminary. I am also a Certified Celebrant with credentials from The In-sight Institute and a Certified Funeral Officiant. I have spent my entire adult life serving the needs of families in their time of loss, both as a funeral director and embalmer and as a celebrant and non-denominational, interfaith clergy. I also spent a few years as the head chef at a Hospice Care Center. I have tried to model my life's work after the works of mercy mentioned in the Book of Matthew 25: 34-46. I additionally help the transition of the deceased by reverently caring for their earthly remains as well as assisting the deceased's families come to terms with the loss. I believe that our physical death is just a stepping stone on our eternal journey. It is my mission to assure families that their loved ones may be physically gone, but that they are spiritually still alive and well. I offer services as an Interfaith Clergy to families in need of an officiant for services and pastoral counseling as requested. I can be reached via e-mail at revlfd@gmail.com | |

---

| | |
| --- | --- |
| My name is Ana Harvey and I have been ordained by the Esoteric Interfaith Church as a minister.  I am also an N.C.C.A. Licensed Clinical – Christian Counselor, Certified Temperament Therapist, and a Licensed Clinical Pastoral Counselor.  I have a BS, MA, and I am currently in the process of completing my PhD in Psychology.  Additionally, I have a private counseling practice, Arising Counseling Group, in Jacksonville, Florida. We offer distinctive Clinical/Christian based counseling workshops for small and large groups.  Our unique brand of counseling and education integrates traditional therapy with new and innovative clinical approaches, sound principles and a strong respect of the client's faith and/or values.  It is reinforced with solid academic credentials, knowledge and training in the area of Psychology, Christian counseling, the wisdom of Theology, compassion, and empathy.  In addition, we specialize in, "Wellness and Stress Management Workshops."   I feel blessed every day of my life and it is my mission in life to ensure that everyone feels God's love and grace. Contact me. | |

---

Rev. David Mashburn, M.Ed. in Georgia
Rev. David Mashburn, M.Ed. holds a Bachelor of Music Education in Piano and Voice from the University of Montevallo — Alabama's oldest and most respected music school. In 1991, David completed Post-Baccalaureate studies in Theatre at Georgia State University and attended the HB Studio in NYC for scene study.

In 1995, David earned a Master of Education in Counseling from Georgia State University and completed 2 more years of additional Post-Graduate Studies in Counseling at the University of Alabama at Birmingham in 1999. In 2013, David became an ordained interfaith minister. David has 25 years of combined teaching and counseling experience in the public school, university, clinical settings and private settings.

Although David combines compassionate listening with intuition and empath, he demonstrates an eclectic approach to helping others grounded within humanistic, existential and transpersonal psychology and philosophy. Some of David's areas of expertise and interests include anxiety, depression, addiction/substance abuse, loss/grief, trauma/post traumatic stress disorder (PTSD), relationships, personal development, creativity, life purpose, spirituality, consciousness, lesbian/gay/bisexuality/transgendered (LGBT) issues, coming out, HIV/AIDS, careers and artist development.

Currently, David holds membership with the Licensed Professional Counselors Association of Georgia, the International Association of Professional Life Coaches, Peace Next: Council for a Parliament of the World's Religions and the Interfaith Alliance. He's a published composer and enjoys classical piano. In fact, David's two most recent releases including Why and Where There's a Will are available on iTunes.

Visit my website http://www.DavidMashburnMEd.com.



---

Carl McColman,
in addition to being an Interfaith minister ordained through the Esoteric Theological Seminary, is a writer and
teacher based in Atlanta, GA. He is a professional tarot reader and
spiritual counselor at the Phoenix Psychic Center, where he teaches
classes on Celtic spirituality and mysticism. He is the author of
several books, including "The Aspiring Mystic," "The Complete Idiot's
Guide to Celtic Wisdom," and "Embracing Jesus and the Goddess." He
works as a spiritual guide in the tradition of the Celtic anam chara
(soul friend) to both individuals and groups; sessions may be scheduled
in person in the Atlanta area, or by phone at 800-597-6800 (US only).
For more information please visit his website, http://www.carlmccolman.com/
or email
him

---

Reverend
Salima N'Dulu is an Ordained Minister through the Esoteric Theological Seminary. She is also a writer, counselor and spiritual advisor. She is available for weddings, funerals, house-blessings and private/family/group counseling sessions.

She is also available for motivational speaking engagements, seminars and workshops. Her dream is to open a spiritually based wellness center, focusing on the most important parts of us, our minds, bodies and spirits.

She has studied various world religions and spiritual organizations and plans to incorporate that knowledge into something that will help all kinds of people in their search for spiritual peace and joy.

Rev. N'Dulu can be reached by email: or by phone: 813-391-7953

Port in The Storm Interfaith Ministries in Fort Lauderdale, Florida

---

Rev. Dr. Richie A.
Perryman and Rev. Dr. Betty D. PerrymanP.O. Box 692, Vinemont, Alabama 35179Telephone: 251-224-7207Email: spiriteye@ymail.comFounders of: The Blessing Interfaith Church and Spirit Eye Spiritual Wellness CenterWellness Center offers Spiritual Services in Wellness and Self-Help And Spiritual Guidance in Grief, Hospice and Family Out-reach: Couplehood; Marriage Planning, Dual Family Integration, Divorce Recovery and Tantra for couples in Long Term Committed Relationships seeking ways to enhance their love and commitment for one another. (Retreats offered).Career Coaching:  Workshops and courses available: Spiritual Meetings weekly

---

Tina Powell is an Advocate for Self Realization and a catalyst for human evolution. She works with people on many levels, and in various stages / types of transition through "The Great Human Unconditioning."  To live a life from LOVE not fear.  Using a unique blend of her well developed intuition, scientific knowledge, teaching experience, and an array of healing strategies, Tina shines light on the places in your journey yet unknown, places you may be "stuck in fear."  She uses a holistic approach, bringing together the human psyche and spirituality. Sharing the wisdom of her experiences and of "Self First": not looking outside of "Self" for anything. Learning to Honor, Discover, Fully Express, Restore, and Heal to wholeness.  Assisting you in building a new relationship with Self, Others, and the Natural World while witnessing and LOVING the "little self" (ego) inside. Become your own best Guru – your own best Guide.  Create a Balanced, Focused & Connected Life!

A life long learner with a pioneer spirit, Tina has spent the past 13 years on a wild cosmic unconditioning of her own.  She calls it "an inner storm of galactic proportions, where Star Wars meets Harry Potter."  Coming to understand her inner world of both, the voice of ego and the voice of wisdom, and their relationship to her outer world, transformed her entire life.  During her wild, cosmic unconditioning, she spent night after sleepless night, year upon year, having lucid dream experiences.  Here she healed, and further developed her intuitive gifts and natural shamanic connection to the global Ancestral Energies.  In this period of intense growth, she walked through darkened cold caverns of Fear, and sank into the void of death of the ego. This initiation gave her the knowing of her way home to Self, and Wholeness.

Tina is a Self Development Consultant living in Asheville, NC.

Email Tina, or visit her website  www.AReconnectedLife.com

---

| | |
| --- | --- |
| | Reverend James Ramsey, M.Ed.: is an ordained Interfaith Minister based in Chattanooga, Tennessee.  He is the Director of Crossvine Ministry, an interfaith ministry serving Tennessee, Georgia, and Alabama.  Grounded in the perennial philosophy, his ministry represents a movement beyond dogma and toward the experience of the divine reality through the healing power of nature and present moment awareness.  To this end, Reverend Ramsey provides spiritual counseling, officiates non-denominational ceremonies (including weddings!), and advocates for human rights and environmental awareness.  Future expansion plans include the establishment of a rural retreat center to host dialogue groups and healing workshops, as well as a program to provide spiritual support to people confined to prisons, hospitals, and nursing homes.  Please see our website at www.CrossvineMinistry.org and call (423) 475-3382 or email info@CrossvineMinistry.org for more information. |

---

Rev. Dr. Miroslav Sarac a.k.a. Dr. Isidor in Ellijay, Georgia has a master and doctoral degree in biomedical sciences with an extensive postdoctoral fellowship and numerous certifications in caregiving, assisted living management, end-of-life care and support, thanatology and rehabilitation of disabled people. Additionally, he is a Doctor of Divinity and duly ordained as an interfaith and spiritual minister. During his professional life and work he built cultural competence related to different cultures, religions and spirituality, languages, disabilities, gender, race and sex orientations as well as skills in critical thinking and problem solving.

Services provided by Rev. Miroslav Sarac, M.S., Ph.D., D. Div.

– Consultations in interfaith and spiritual ministry, and mediation / negotiation of interfaith conflicts (for more information see: http://www.icermediation.org)
– Workshops and classes related to interfaith ministry, sacred arts, interfaith dialogue, mediation of interfaith conflicts, and end-of-life spiritual care
– Sacred Arts and Interfaith Dialogue Club (for more information please see: http://www.doctorisidor.com)- Non-denominational / Interfaith weddings / Handfasting Ceremonies
– Baby's blessings, Christening and Baptism
– Confirmation
– Life Passages for man and woman
– Anointing the sick
– End-of-Life Spiritual help and support
– Memorials, Funerals and Tributes/ Services before cremation / Services at the grave/ Release of the soul
– The memorial of departed souls/ prayers at the graves of our dear departed- House Blessings – Businesses – Dedications
– New House Blessings
– Candlelightening services
– Healing Services
– Environmental & Seasonal Celebrations
– Meditations and Prayers
– Civic & Corporate Events
– Living Legacies
– Natural Health Teaching for Individual/Groups
– Living the Lunar Calendar – guidance and spiritual advice
– Spiritual Counseling
– Intuitive Advice and Guidance

For more information or to make an appointment please contact me via e-mail doctorisidor@gmail.com or please give me a call (504) 233-8702. Please visit my website, http://www.doctorisidor.com, and blog http://doctorisidor.blogspot.com.

---

Dale
Stacy, D.Div. & Jeanne Stacy, D.Div.
are the Abbots of EarthStar Spiritual Center
in Greensboro, N.C. They are Ordained Ministers, Kumu Huna Masters,
Usui Reiki Masters & Approved Instructors with the National Certification
Board for Therapeutic Massage & Bodywork. Dale & Jeanne conduct
weddings, baptisms, christenings & other interfaith ceremonies.Dale is a former military/municipal police officer. He is a graduate of N.C. State University & has a Doctorate of Divinity from Esoteric Theological Seminary.Jeanne is a retired English/French teacher. She is a graduate of East Carolina University & has a Doctorate of Divinity from Esoteric Theological Seminary.Dale & Jeanne teach continuing education courses in Business & Personal Development, Energy Therapies, Martial Arts & Shamanic Studies. They have been teaching classes since 1995.Contact: EarthStarSpiritualCenter.orgEmail:
Phone: 336-668-7044

---

---

East
Central USA       East
Central USA      East
Central USA      East
Central USA      East
Central USA

Lyn Behnke
I hold a Doctor of Divinity and am ordained as an Interfaith Minister. I hold a
Master's degree in Nursing from Michigan State University (1990)
as a Family Clinical Specialist/Nurse Practitioner. I am certified
as a Nurse Practitioner by the American Academy of Nurse Practitioners
and The American Nurses' Credentialing Center of the American Nurses
Association.

My roles of nurse and minister are inseparable. I am also a Reiki practitioner, reaching third degree in 1996. My practice as a nurse incorporates multiple modalities including assessment for health and wellness, disease and it's consequences, counseling, coaching, teaching and advising as well as treatment ( including natural, Spiritual and western practice) of disease. I take a wholistic view of individuals and families and assist them on their paths in this life.

My goal is to develop a healing center that incorporates multiple avenues for health and wellness that also treats dis-ease.

I have also been blessed to participate in wedding ceremonies, and am looking forward to facilitating a ceremony that celebrates and honors all of life's passages.  In Northeast Michigan, (Oscoda area) contact
me.

---

| | |
| --- | --- |
| My name is Kate Frishman, and I am an ordained interfaith minister and marriage officiant in Bowling Green, Ohio. I am available to perform weddings and commitment ceremonies that honor and celebrate your love for one another and respect your spiritual beliefs. I can be reached at 419.575.9504 or email me. | |

---

Penny
Steward, BS, MS, CLL is a professional wellness consultant, educator,

and author. As a consultant for an international wellness company for nine years and a consultant on her own for the last few years, she has taught thousands of individuals and organizations across the nation how to make healthier lifestyle choices in the areas of nutrition, exercise, stress management, sleep, meditation, hydration, laughter, well aging, and perception balancing. She has changed people's lives by showing them how to take control of their own health to have more energy, lose fat permanently, and prevent illness. Penny has been in the entertainment/speaking arena for over twenty years and, as a national speaker and author, her mission is to help even more people understand the importance and how-to's of taking care of "the houses we live in".

Penny is also recognized as an expert in the field of human behavior; her insights grounded in experiential wisdom and thoughtfully applied research on the power of perception and the importance of self-talk to self-evolution, making her ministry an important part of holistic treatment.

Penny leads life changing wellness and behavior seminars and workshops, teaches her wellness programs (holistic learning systems available by web, CD, and live), and coaches people to optimal health. Her success and passion have led her to be known as "The Human Energy Specialist"!

Contact Information:

---

North
Central USA
     North
Central USA      North
Central USA      North
Central USA      North
Central USA

Dr. Matthew Hamilton,
ThD, is an ordained Interfaith Minister and holds a Doctor of Theology.
As a minister and theologian, I hope to be able to better reach people
in the community and aide them with any daily issues that might come
along. I have been an Interfaith Minister for some time, and ordained
by the Esoteric Theological Seminary as a Minister of the Living Word.
At my young age I have experienced alot more out of life than most
can ever hope to accomplish in their lifetime. I am planning on going
back to school for my PhD in Metaphysics in the near future as well
as work on other degrees in the fields of Ancient History and Archeology.
As a member of the Ancient Freemasons, Shriners, and Knights Templar,
I am very active in community service, and charity. I have a dream
of one day soon opening an Interfaith Community Center in hopes that
denomination boundaries, discriminations and stereotypes can be crossed
and put aside, as to unite all those seeking to learn about God. Currently
my ministry is being run primarily from my home office as a spiritual
counseling and religious services organization. The Ministry is called
"The Faith Based Life". More information about the services
I offer can be requested by sending me an email: Dr.
Hamilton


---

| | |
| --- | --- |
| Rev. Dr. Richard (Rick) Davis, is a graduate of Northeastern Illinois University in Chicago, IL, USA.  He holds two Master of Theological Studies degrees (Ethics, and Historical Studies) from Garrett-Evangelical Theological Seminary in Evanston, Illinois, and a Ph.D. in Theology and Religious Studies from York St. John's University.  He holds a Ph.D. from the University of Cambridge in Psychology, and received training in Addictions Counseling from the Adler School of Professional Psychology in Chicago.  He has completed Science of Mind training under Dr. Carleton Whitehead, former President of Religious Science International, through the First Church of Religious Science in Chicago, and holds a Master of Consciousness Studies from Holmes Theological Institute. See Rev. Rick on LinkedIn | |

---

South
Central USA      South
Central USA      South
Central USA      South
Central USA      South
Central USA

| | |
| --- | --- |
| The Rabbi Dr. Yehoshua M. Othniel is a licensed clinical Social Worker who was trained as an Aging Specialist and specialized in Geriatric Psychotherapy with a pilot program being operated in a rural community mental health center. Dr. Othniel is currently engaged in Nephrological Social Work where he received training in Symptom Targeted Intervention, a brief psycho educational technique designed by Melissa McCool, MSW for use in a Medical Social Work setting.  Rabbi Othniel's current ministerial outreach is being done through a hospital chaplaincy program through an affiliated hospital of the Mercy Health Systems, Inc. Dr. Othniel was recently invited to embark on a paid internship where he will continue to practice as a psychotherapist while he trains under the current Director of a private counseling ministry in Faith Based Therapy techniques. Upon completion of his internship Dr. Othniel is expected to be named as the new Director of this ministry. To contact the Rabbi Dr. Yehoshua M. Othniel  for a consult or if you wish to schedule an appointment for therapy he can be reached via the following, U.S. Post at: P.O. Box 1452, Independence, KS 67301-1452, by E-mail at: yothniel@gmail.com or by Telephone at 620-779-3975. | |

---

Dr. Martin
V. Cisneros D.Div., Th.D,
Ph.D is from Fort Worth, Texas and is an ordained Interfaith Minister
and Christian Evangelist through Metaphysical Interfaith Church.
He is powerfully redefining what the Love of God means for all of
us in practical and relevant ways for the 21st century and beyond.
He is a major pioneer in embracing animals within a high-impact
Christian spirituality that's destined to change the world.

He's cutting edge as a speaker and a writer in refuting the erroneous ideas of a never-ending hell as being any kind of a basis for faith in God, traditional evangelism, or any area of Christian practice. He was mentored for over 10 years under the Internationally known teaching, prophetic, and healing ministry of Kenneth and Gloria Copeland.

Martin's entrance into Restorationist, and also animal theology is all original pioneering territory. Building upon the powerful heritage he's received through Kenneth Copeland's life and ministry, Martin sees his mission in life as that of building up Christians in the ancient (and often neglected) truths of Christianity with a practical emphasis on living moment by moment in communion with God. In one accord with that mission, he sees himself as a "reconciliationist" between Christianity and the world.

Martin's ministry is a truly new spin on transformational wisdom teaching that is enriching, enlightening, and empowering. He has something truly remarkable to offer everyone. Martin is currently developing a website at http://www.martincisneros.com and can be contacted at   http://www.contactforms.com/contact.cfm?f=1020  for information about his itinerary and for booking information. You may also leave a message via toll-free voice mail at: 1-877-568-6154 and Martin will get back to you as soon as possible.

---

Dr. Patricia is a Natural borne Psychic and Intuitive Advisor; a Spiritual Counselor, Healer and Teacher of Meditation as well as a Life & Wellness Coach.She teaches

Meditation

for the control of Emotions, Healing of the Heart, Mind, Body & Stress release. Relaxation and physical Healing and

Meditation

to

STOP

Smoking,  Drinking, Drugs, Calm the Nerves and symptoms of ADHD, ADD, and Ease the Pain and Fear of Grief, Depression, Anxiety and FEAR itself.

Borne with an Intuitive Spirit, Dr. Patricia has been a Gifted Healer since she was a child, and has been Authenticated with the Spiritual Gifts of Discernment, Teaching, Prophecy and Healing. She will serve as an Intercessor or Medium for your Deliverance and Healing. She allows herself to be a Medium for the Holy Spirit to work through her for your Deliverance, Healing and Intuitive Guidance.

Dr. Patricia is a Licensed and Ordained Minister. She has a Doctorate or Divinity, with emphasis on Pastoral and Spiritual Counseling and the Psychic Guild Certification, a Master of Ceremony, Reconciliation & Wellness, She also has a Bachelor of Science in Psychology and Sociology and an Associates of Arts Degree, with a concentration on Criminal Justice and Business, and several other Certificates and Certifications, and still continues to study Metaphysic's, and Human Services for self-improvement to better help and enrich her life as well as the lives of others.

You may contact her to Officiate your Wedding Ceremony in the DFW area, (formal and informal) See her pictured right performing a beautiful lakeside wedding in Texas. Rev. Patricia also does Commitment and Exchange of Ring Ceremony, Renewal of Vows, the Blessing of your home, and can serve as an Intercessor and/or a Medium. Contact her for Spiritual Readings, Healing, Meditation or to arrange a Motivational Speaking engagement for your organization, church function, School or other festivity.

Located right outside the Greater Dallas area, Dr. Patricia travels to do Weddings, Service Calls, Healing Speaking engagements and Deliverance. She also enjoys reading, exercising, Meditating and spending time with her family.

To make an appointment for:

Spiritual Reading
Intuitive Advice & Guidance
Healing
Intercession/Medium
Wedding
Blessings
Prayer & more…..

To ask a Question, arrange a Speaking engagement or other Formal, or Informal Ceremony, you may may Contact me at:



May Many Blessings Be upon You God Speed.

(I work by Phone, E-mail, or in person)

---

---

Dr. Cynthia Kersh holds a Bachelor of Science in Holistic Studies, Doctor of Theology, is a Licensed Massage Therapist, and a Certified Medical Massage Practitioner™. Certified in Deep Tissue, Trigger Point, Orthopedic, Pain Management, Shiatsu, Reflexology, Aromatherapy and Polarity she is able to address most concerns of the client. Other certifications she holds include Holistic Health Practitioner, Spiritual Counselor and Reiki master/teacher. As a Nature's Sunshine Distributor she offers herbal health products in addition to Biofreeze and other products to address your health concerns.

Pathway to Healing Integrated Therapies

Bedford, Texas

Rev. Cindy Kersh performing a marriage in Texas soon after her Ordination as a minister.

---

The Rev. Dr. Christopher A. Gower is a 2003 Graduate Alum of the Esoteric Theological Seminary and practicing Clergy of the Esoteric Interfaith Church working in Kansas City. His journey is one of spiritual expression and inclusion: philosophically sound approaches to illuminating the Divine in the individual and embracing the ancient wisdom of the past to empower the evolutionary state of the present. Dr. Gower's unique approach to understanding the psychological and sociological state of man is grounded in both the traditional and mystical, western and eastern traditions, both Judeo-Christo Messianic and Heathen/Pagan respectively. Nordic and Shaman, Earth and Spirit.

An avid scholar, occult historian, ritual archivist and esoteric philosopher in his own right; Dr. Gower is a welcomed guest for both Television, Web and Radio programs based on all things hidden or unexplained. A Practicing Martial Artist, Musician, Organic Master Gardener, FreeMason and Artist: His balance of intelligence and emotional quotient lends itself to comprehensive interpersonal counseling and insight for the discriminate seeker. With traditional matriculation in Psychology and Sociology; his kind, yet wise demeanor is both welcoming and warm without sounding preachy or elitist.

'Every solution that will ever be; big or small, simple or profound, will start with a conversation free of prejudice.' The Rev. Dr. Christopher A. Gower

All appearance inquiries and possible opportunities for lecture or presentation, should be directed to his staff at: drcagower@yahoo.com

---

Father
Doneau Probst is ordained as an Interfaith Esoteric Priest of the Interfaith Esoteric Fellowship Church through the Esoteric Interfaith Church Seminary and is licensed in Missouri. He attended college at the University of Colorado Boulder and Vincennes University in Vincennes, Indiana majoring in Medical Technology and minoring in both Social Work and Psychology. He was trained in Education for ministry as an Exhorter in the Church of God Cleveland, Assemblies of God, and at the Christian Family Worship Center in Washington, Indiana. He has also been trained in Empathic Counseling and Healing, Tantric Massage, Spirit and Totem Quests, Regressive Therapy and Astral Projection and is currently ministering in the Earth-based disciplines. Father Doneau has worked with a variety of religious groups as a minister and music director and is well known for his ability to project calming vibrations through his writings. He offers his services free of charge to those who are financially unable to afford his services. Father Doneau can perform marriages, handfasting, blessed unions, unity ceremonies, sacred dedications, and funeral ceremonies. He also does empathic counseling for those not finding satisfaction elsewhere. Father Doneau is currently the Avatar of the Interfaith Esoteric Fellowship Church in Willard, Missouri and owns a 37 acre woodland ranch at which he will be conducting retreats for spiritual growth and healing, as well as training seminars. "I became disenchanted with the rigidity and intolerance of the neo-Christian doctrines, and set out on a spirit quest to discover the inner connection between myself and the Higher Power. While I believe that the Bible is the word of the God (Jehovah), I also believe that our spiritual paths are unique. We are all called, though we all have different callings, and there are different planes of spiritual existence, expression, ministry and worship." Please feel free to visit the Interfaith
Esoteric Fellowship Church Online for more information.Father Doneau is a resident of Missouri and may be contacted at 417-742-0590 or 417-894-4008 or by

.

---

The

Reverend
Randall Simmons
is ordained as a Priest of the Esoteric Interfaith
Church through the Esoteric Theological Seminary and is licensed
in Oklahoma. He was trained in Education for Ministry by the University
of the South Theological Seminary in Sewanee, Tennessee. He has
also been trained in the beliefs and traditions of many of the world's
religions and traditions and uses the teachings of Ancient Celtic
Spirituality. Fr. Simmons has worked with a variety of local religious
groups as a speaker and service leader and is well known for his
liturgical background. He renders his services free of charge to
those who have monetary problems or simply find themselves at a
spiritual loss from their local Church homes. Fr. Simmons can perform
marriages and funeral ceremonies and liturgies. He also does spiritual
counseling for those not finding satisfaction along traditional
paths.

"My soul motivator has always been to allow those who find themselves trapped inside the 4 walls of the church, synagogue or temple an opportunity to seek out their own spiritual path to God, whatever they conceive God to be, in a manner suited to their needs not the rules of the Church, Christianity, Judaism or whichever religion they have been raised with. Each person must follow their own spiritual path. The "Church" does serve a purpose for some; however the idea of God in a box is not cohesive with human existence and spiritual growth and is not well suited for everyone. If the Church for example says, you can not be married for this reason or that reason, it does two things; it attempts to decide what is or is not true love and then sends a message not of love but one which says "these two people are spiritually inadequate and not worthy of Gods love to bless their marriage".

Father Simmons is a resident of Oklahoma and
may be contacted at 580-220-4239, on Facebook or by email.

---

Four
Corners USA      Four
Corners USA      Four Corners
USA      Four Corners USA
Four Corners USA

---

Rabbi Helene Ainbinder received her Ordination from the Esoteric Theological Seminary. She has a B.A. in Judaic Studies from Hofstra University, is a Licensed Jewish Family Educator from Touro College, and has over 25 years teaching experience in the diverse Jewish Movements. She is affiliated with the Beit Haverim Synagogue, in St. George, Utah, serves as a Chaplain at the regional hospital there, and is active with the Interfaith Council of St. George.

Rabbi Ainbinder sees the urgent need in the Jewish community to reach out to the unaffiliated and reconnect them to their rich Jewish heritage and its Spirituality.

Rabbi Helene is available for life cycle events and services for the Jewish people and Interfaith families in the Southern Utah area, such as:

Baby Naming

House Blessing (with Mezuzah and parchment if needed)

Weddings

Interfaith Wedding Ceremonies for those who plan to live and raise their children as Jews (Conversion not needed)

Unveilings

Shiva

You may contact Rabbi Helene Ainbinder via EMAIL or cell phone at 631- 682-6815.

---

---

Robihynn Hawkins:
 Robihynn has been involved in spiritual
work for the past 20 years. She is a spiritual counselor, personal
growth facilitator, energy healer and an ordained Spiritual Interfaith
Minister. She studied at the Kairos Institute in San Diego, Ca. and
is dedicated to helping seekers re-connect to Spirit and themselves.
Robihynn is now located in Aurora, Colorado and can be reached by
email for personal sessions.

---

Guy Richardhttp://www.DenverLifeCoachingConsultants.com (denverc2.com).

An Institute for Meaningful Purpose and Wholistic, Engineered Personal Excellence; Spiritual Counseling, Coaching and Consulting Services for the 21st Century.

Advancing Integrated Psychological Progress and Spiritual Awareness for 30 years.

BA: History
MA: Jungian Psychology & Counseling
Ph.D: Religious Studies
Doctor of Metaphysics
Doctor of Divinity
Ordained Interfaith Minister

Guy Richard, Ph.D (Mind-Body Research, Theory and Practice)

303-319-0414 Denver Metro Area

Services Offered:

Archetypal Astrology
Tarot Card Readings
Hermetic Laws of Mind-Body
The Four Organic Functions
Tria Prima / Ayurvedic Philosophy
Alchemical Stages of Transformation & Change
Chakra / Color Theory and Practice
Esoteric Science & Ageless Wisdom
Judeo-Christian & Polytheistic Mythology & Rituals
Eastern Mysticism & Philosophy

Successful Life Strategies for our Current Precarious and Turbulent Times.

---

Elmira
Rivett
General Celebrant
Wedding Celebrant

At 'Ceremonies of Depth and Beauty' as your
certified celebrant, I conduct a wide range of traditional &
non-traditional ceremonies and celebrations including spiritual,
interfaith, multicultural, secular & green (eco) ceremonies
for:

Families & Children

Couples

Mid & Late Life Passages

Healing & Transition

Memorials, Funerals and Tributes

House Blessings- Businesses-Dedications

Environmental & Seasonal Celebrations

Civic & Corporate Events

Living Legacies

I live in Taos, New Mexico and I am available to travel anywhere in the USA.

When I am in Australia, I am also available to conduct all ceremonies, except weddings.

We will carefully co-create your ceremony together, as a personally meaningful expression that honors your needs, using the symbols which deeply resonate for you. I write your ceremony in full consultation with you, and I help you locate the resources and ideas that you want to include. Also included is a full rehearsal.

A Certified Celebrant with the Celebrant USA Foundation in New Jersey, I hold a Diploma of General Celebrancy and a Diploma of Marriage Celebrancy from the International College of Celebrancy based in Australia. I am completing the requirements as a Certified Funeral Celebrant, and I am available to conduct funerals and memorials at this time. I am also an ordained Celebrant-Interfaith Minister from the Esoteric Theological Seminary. I offer my services with the highest integrity and professional standards.

A creative, dynamic, caring and compassionate facilitator and presenter, I conduct workshops, give talks and conduct retreats regularly and upon request.

My complementary backgrounds as a counselor, trainer and educator, group and event facilitator, and language, drama, and expressive arts teacher working with people of many different cultural, belief, age and ability backgrounds supports my work as a celebrant. At the same time, for over 35 years, I continued to undertake extensive in-depth personal study of many of the world's philosophical, spiritual/religious traditions.

I hold Graduate Diplomas in Counseling from the Australian College of Applied Psychology, and in Design (Distinction) from the University of Technology, Sydney. My other qualifications include: national (Australia) Vocational Certification in Small Business Management, Assessment & Workplace Training, and Undergraduate qualifications in Teaching, and in Massage Therapy. I am also a trained Hospice volunteer.

Please call me to discuss your needs on 505-758-8513 or email
me

I look forward to hearing your 'story' and
working closely with you to create your satisfying and memorable
ceremony of 'depth and beauty'.

---

Greetings from Rev. William Q. Ross

I pray that when you read these words you and all in your Kingdom are in the best of health and spirit. It is with great excitement that I introduce you to Ministry Ashé.

Started in Phoenix, Arizona in 2006 by Reverend William Q. Ross, Ministry Ashé is committed to preserving and performing ceremonies of all world religions including Santeria and Ifa, with Respect, Sincerity, Traditions, and Affordability. Ceremonies, presentations, forums, group discussions, counseling, and spiritual guidance sessions are available for scheduling on a nationwide level.

Ceremonies can be tailored to meet the spiritual needs and desires of individuals/families. This includes the incorporation of language, actions, traditions, of organizations that the individual/family belongs to.

Peace, Blessings, and Ashé,
Rev. William Q. Ross
Email
me
P.O. Box 37095
Phoenix, Arizona 85069-7095
www.MINISTRYASHE.com

---

Tami Urbanek is a medium/clairvoyant who connects with and communicates with deceased individuals and a person's spirit guides. She grew up in a spiritual environment and her father is a medium for Jonah. Tami's educational training is in special education and public administration and she worked over 12 years in private and public education. Her experience was in working with children who had disabilities. She now works full time as a medium offering to communicate with a person's spirit guides to assist in a person's life journey.

Tami also offers Tai Yi energy work. Tai Yi is an ancient Chinese method of energy work. The words Tai Yi mean Supreme Movement. This type of energy work is similar to acupuncture except that needles are not used in this work. Tai Yi assists the physical body, emotions, mental activity, and spiritual growth. There are many Tai Yi exercises that assist a person on deep levels. A Tai Yi practitioner must be enrolled in Tai Yi School of Healing to offer services.

More information at EmpowermentThroughHealing and see my entry at the ProgressiveHealthCenter

You can email Tami or by phone at 719-641-2017

Southwest USA
Southwest USA      Southwest
USA      Southwest USA
Southwest USA

---

Rev. Luna Blanca

has been a professional Tarot reader and spiritual teacher since the late 1990s and has been working with the Tarot for over twenty years. She is the author of Luna Blanca's Tarot Book

and is the author of the website Mary As Goddess: Virgin, Mother, Queen which traces the links between The Divine Mother and previous Goddesses in history. Luna wrote the yearlong course White Moon Studies and founded the Goddess-oriented White Moon Tradition. She offers Tarot and Dream Readings and Tarot lessons via her website ByTheLightOf.com
Email Luna here

---

Reverend Diane R. Burton

association  with the Anglican Church, more than 50 years ago, with the Church of England, in London, UK.  Rev. Burton served in law enforcement, first, as a British police officer, and then as a Military Police officer in the US Army. She earned her Doctor of Law (JD Juris Doctor), in 1973. She also holds advanced degrees in Military Science, Administrative Law and Criminal Justice.

In 1984, Rev. Burton was ordained as a priest in an Independent Anglican Church in California. Her ministry was to the elderly and disabled. She visited Hospitals, Convalescent Homes and Senior Housing Projects. She performed Sunday Mass at Hospitals and Hospices, for several years. During the onset of the horror of the AIDS epidemic, she counseled many AIDS/HIV patients, including conducting the funerals of victims of this disease.

Reverend Burton's other work included conducting weddings, funerals, baptisms and other clergy duties in the San Francisco Bay Area and Sacramento, California.

Some 20 years ago, Rev.Diane, created a womens' legal clinic, providing self-help legal services for low-income persons. She successfully represented persons before the Social Security Office of Appeals, the California State Labor Commissioner, Federal Fair Housing and the EDD Appeals Board.

Rev. Burton, later joined a San Francisco Bay Area Immigration Law Firm. Because of the heavy work load and the necessity to travel, she temporarily retired from her clerical duties.

Rev. Burton re-entered the ministry, renewed her religious vows and graduated from ETS, being ordained a Priest in the Order of St. John the Evangelist. Rev. Diane continues to support the traditional Anglican Rite of the 1928 Book of Common Prayer and continues the tradition of the Holy Catholic Church. She also supports "Interfaith".

Rev. Diane continues the work of her Guardian Womens Clinic, (Men are not excluded!). During this recession, this work has been a blessing for so many financially strapped people.

Within the San Francisco Bay Area, Rev. Burton is available for:

Traditional Anglican Catholic/Episcopal Weddings

(Roman Catholics who have been divorced, are welcome! We do not deny re-marriage)

Funerals

Baptisms

Counseling and other Pastoral Needs.
Reverend Burton may be contacted via email

---

Zeenat Burse, M.S.

As an Ordained Spiritual-Interfaith Minister with a deep connection to Spirit and a strong commitment to helping others, I am pleased to offer the following services in the Los Angeles area and over the phone:

spiritual counseling,
 intuitive guidance,
and life and spiritual guidance
workshops/classes

My work is based on tapping into universal energy, intuition, and the spirit world to help others heal physically, emotionally, mentally and spiritually.

To further my gifts, I am working on my Ph.D. in Parapsychic Science at the American Institute of Holistic Theology. Additionally, I am a Reiki Master and have a Masters of Science in Counseling with a license in Marriage and Family Therapy in the State of California (although I do not practice psychotherapy in my private practice).

More detailed information can be found at www.lifelighthealing.com

Contact me via phone (818) 404-0745 or email me

**I currently have an opening in my Spiritual Exploration and Process group that takes place monthly in the San Fernando Valley area (Southern California)—contact me if you are interested**

I look forward to connecting with you…warm blessings!

---

Cassandra L. Cholaki
( Dr. Casey), MsD. is a writer, teacher, and
counselor with a MA in counseling psychology and a doctorate in metaphysics.
She has taught various classes and workshops on Ancient Egyptian mysteries,
Dreams – Messages from your Soul, Chakras, Angels and The Sacred Tarot.
A Starlife Practitioner she is capable of sending healing and protecting
energy over long distances. She is a Sacred Pipe carrier. She was
a staff writer for California Magazine in which her monthly columns,
"Metaphysically Speaking and the Tarot Parlor" were cutting edge.
Her readings help and heal at the soul level, while at the same time
give practical easy insight into the challenges facing people in their
everyday life and relationships. To email her for an appointment either
by phone or return email, please contact her by
email.

---

Miguel J. Criado:

My name is Miguel Criado and was happily ordained a Minister at the Metaphysical Interfaith Church in 2000.  Becoming a minister was the turning point a few years after an accident as a youth where I had my first of several brushes with death. This created a lasting impression in my life.  After surviving a fall from the 5th floor as a youth the diagnosis was that if I survived the fissure I had on my Aorta I was to be paralyzed for the rest of my life.  Once out of Intensive Care came the recommendation to have my left leg amputated to avoid gangrene, after all, I was to remain paralyzed.  After several 2nd opinions I gave my consent to have the leg amputated and that moment was the first time I became aware of that which transcends comprehension but assured me everything is possible, everything.

After six months of intense visualization I was walking again and for 22 years have been using prosthetics to do anything from dancing to exploring pyramids.  My right leg was removed last year to reduce pain and increase mobility.

After many Medical evaluations, Hospital and recovery personnel referring to my case as a beyond science occurrence I been asking Universe the question, Why?  and I have been listening ever since. And I know so have you, whatever your personal experience is, that is why you are in service.

Now I have a call to be a Life Coach specializing in Processes.  My experience is that those in service to others at one time or another can use someone to strengthen balance and move forward in helping as many as possible.  Going at it solo can be  isolating and we don't have to be alone in this journey.  That is why I am grateful to be of assistance to those that dedicate their life to service.

In a discreet and confidential over the phone setting we can partner to explore ways to address any issue from strengthening balance to your personal connection to Source.  The idea to have a coach is to help manifest and sustain the best possibilities so you can be in the best shape possible to help those you dedicate so much of your time and energy to.

You can contact me or call me at 760-904-4422.  I live in a desert Oasis in Southern California from where I am at your service.

---

---

Brian Dirrim
currently resides in Northridge, California
where he works as a Marriage and Family Therapist in a Mental Health
clinic serving children and adolescents with severe emotional and
psychological disorders. Ordained as a Spiritual Minister through
the Metaphysical Interfaith Church, he seeks to integrate Eastern
teachings with Western Psychology/Philosophy for the betterment of
psychological and spiritual counseling. He is an active Life Coach
and Spiritual Advisor and is committed to helping others in their
journey of personal/spiritual growth. He is available for Marriage
and Commitment ceremonies, dedications, as a group speaker, and as
a personal one-on-one Life Coach and Spiritual Advisor. Reverend Dirrim
can be reached by
email.

---

---

Philip De Graviet

is a Certified Hypnotherapist, D. Div. Practicing for 25 years in the Las Vegas area under the name of Mind and Body Hypnosis. As well as alleviating chronic and intractable pain Mind and Body Hypnosis is also very effective in completely alleviating all types of neurosis and anxiety. All forms of anxiety and neurosis have shown to always have an emotional origin. Using a pinpoint technique, the client and I go directly to the source of the problem and resolve the issues causing the existing problem or problems.

When the Dr. says  It's all in your head , it's time to call Mind and Body Hypnosis.

---

You are not broken, nor do you need to be fixed.. 

You simply need to be uncovered and allowed to shine. 

When you love and live from your center, life is good.  Perhaps you feel something is missing from your career, health, or relationships.  Maybe you know your purpose, but you just can't seem to manifest it.  Unhappily, meaning in life continues to elude you.   It may be that you can see your goal, but you just keep missing it.  I counsel seekers, believers, and non-believers; folks from all religions, faiths, wisdom traditions, and absence of same.  I offer counseling for spiritual growth, guidance, and support on an on-going basis. I use hypnosis, guided visualization, humor, instruction, philosophical discussion, and occasionally ritual, to help you discover and manifest your potential and achieve the success in life that you want.  Seekers and skeptics welcome.

Are you together for a higher purpose, yet you're stuck in the muck of a daily relationship?  Do you want a spiritual understanding as the basis of your relationship?  Have you tried marriage counseling, but it didn't satisfy?  Let's walk together on the sure path to joyfulness.  (G/L/B/Tran, hetero, polyamorous, monogamous.)

QUALIFICATIONS: I am an ordained interfaith minister with many years of experience in hospice as an interfaith chaplain and a therapist. I am a licensed Marriage & Family Therapist, licensed to practice in the state of California (Lic. MFT47627). I have a Ph.D. in Pastoral Ministry and an M.A. in Psychology with an emphasis on Marital and Family Therapy. Post-doctoral continuing education focus is on loss Issues, bereavement, trauma, dissociation, and depression. I am nationally certified in thanatology (death, dying and bereavement), certified as a parent educator, and certified as a medical and clinical hypnotherapist. I am a licensed psychotherapist, a grief counselor, and a spiritual director, who uses psychodynamic psychotherapy, spiritual counseling, and hypnotherapy to help resolve spiritual and psychological matters.

Rev. Dr. Gwen Finestone

Phone:   (714) 658-7488

Office in Huntington Beach, Ca.

---

Tracy Lee "T.L."
Nash has devoted many years
to metaphysical studies and is the founder of Within
The Light; a spiritual institute and wellness ministry dedicated
to mind, body and spiritual health. She is a spiritual teacher who
offers a variety of services including personal energy assessments,
intuitive guidance, mediumship sessions and workshops. Certified
in Reiki I and II, Chakra Therapy and Crystal Therapy. T.L. is also
working on a B.S./M.S. degree in Metaphysics.

She has appeared on radio, volunteered her time for the police, a local convalescent center for the elderly and received a certificate of completion for 16 hours of hospice training through the county of Riverside in California. She is also a successful author of inspirational work which appears on greeting cards, calendars and in books through the popular greeting card company, Blue Mountain Arts, and has taught several classes on the subject of writing for greeting card companies through the highly popular adult learning institute, The Learning Annex. For additional information, please contact T.L. Nash at 1-866-463-3486 or Within
The Light
---
| | |
| --- | --- |
| Reverend Vivian R Smith, MSN is a Nurse Practitioner who has also studied alternative healing therapies such as Ayurveda, Reiki and Homeopathy. She is the pastor of Ho'omana Health Ministries. This Essene Christian church emphasizes healing of body, soul, mind and spirit. In the tradition of the Essenes, the church provides low cost  healing ministries to the community. If you live or are visiting the Fairbanks, Alaska area Email me for information. | |
---
Alexandra True, D. Div.

Interfaith Minister
Your Celebrations
Phone (925) 280-8011
Tollfree: (866) 444-TRUE
Fax (866) 444-8783
P.O. Box 2386
Pleasant Hill, CA 94523
Email
Alexandra
website: http://yourcelebrations.com



---
Linda
Sue Wilson
"Merlinda" came to the practice of meditation and hatha
yoga in 1988 experiencing profound life transformation in the process.
In 1995, she received training at the Sivananda Yoga Vendanta Center
in a month-long intensive at Grass Valley, California, to become
a certified hatha yoga instructor. She has since been teaching yoga
classes in the greater Modesto area. Merlinda is a practicing Reiki
Master and has received advanced training and certification as an
Angel Therapy Practitioner (A.T.P.) by Dr. Doreen Virtue, a well-known
lecturer and psychic intuitive who teaches people how to get in
touch with their angels. Merlinda is also an Interfaith Minister
ordained by the Esoteric Theological Seminary and Metaphysical Interfaith
Church, and the author of Finding Love on the Other Side of Fear;
a spiritual journey involving death and discovery, endings and beginnings,
to be released by Spirit Press in November, 2002.

Merlinda sees that in God's eyes we are all in a state of perfection and have always been so. In her healing ministry, she works with the angels and the God in all to restore humanity to this truth. Residing in Modesto, CA, she is available for Angel Therapy Sessions in person, over the telephone, and via the internet. She also has on-going yoga classes. Contact Merlinda by
email.
---
Northwest
USA
Northwest
USA
Northwest USA
Northwest USA
Northwest
USA
---
Amber Kurt

Energy Healing Practitioner, Interfaith Minister with the Esoteric Interfaith Church

Our purpose and passion is to help others on their spiritual path while learning to maintain their physical health. We help others to learn how to work with their guides, so they may need to only seek physical healing on very few occasions. We also offer end of life support to lessen the pain of transformation into your next existence.

Learning how to work with your guides takes a nuance of thought with some deductive reasoning. With support you can make this change of thought process fairly quickly beginning your true journey in this life.

Located in Salem, Oregon
---
Reverend
Nikki JudgeDr. Nikki is a gifted psychic and intuitive with over 40 years experience using her gifts and skills to help people.  As a clairvoyant/clairaudient, Dr. Nikki specializing in spiritual counseling geared toward the seeker achieving more in their lives through a stronger connection to the Divine within.  Working with some of her clients for literally decades, Dr. Nikki has a wide ranging clientele from around the world.  Dr. Nikki had dedicated her life to helping others seek a deep and meaningful relationship with the Divine.  Dr. Nikki Judge is the Executive Director of Black Rose Spiritual Center, a 501-c-3 non-profit organization dedicated to promoting tolerance and understanding among religious belief systems along with serving those who have chosen a solo spiritual path.  As a full service Spiritual Center, Black Rose offers a wide range of services from wedding ceremonies to blessings, birthing ceremonies to crossing over ceremonies, research, readings and more.   You can learn more about the Center's services by visiting our webpage at BlackRoseSpiritualCenter.org, or Dr. Nikki can be contacted for questions or information regarding services  at 800-496-3114.Black Rose Spiritual Center2898 US Highway 93 NorthKalispell, MT  59901406-756-9033800-496-3114
---
Canada
Canada
Canada
Canada
Canada
Canada
Rev. Ayse Hogan is an ordained Spiritual Interfaith and Esoteric Minister and is the founder of The Chakra House of Healing; a holistic healing clinic and Web Talk Show. Ayse is a spiritual coach, clinical and metaphysical hypnotherapist, she takes her clients on journeys through trance, past life and other realms of reality.  Ayse has her own unique way of healing called T.W.I.S.T which is a blend of many modalities and customized for each client.  She is also a keynote speaker, producer and host.

The talk show is to educate, empower and enlighten the viewers on what holistic healing is.  Many are beginning to look for alternative ways of healing and are unsure of all the modalities and what they do.  Ayse has a new guest on her show each week discussing their specific modality and how it can help to heal them.

Feel free to contact Rev. Ayse Hogan with any comments or questions
---
---
United
Kingdom
United
Kingdom
United Kingdom
United Kingdom
United
Kingdom
---
Elsewhere
Elsewhere
Elsewhere
Elsewhere
Elsewhere
Rev.
Arkadiusz Boleslaw Lisiecki, Th.D, D.Div. lives and works in Wroclaw, Poland. He is an Ordained Interfaith Minister through the Seminary. He is also a Traditional Reiki and Seichim 7 Facet Living Light Energy Master Teacher and Psychic Phenomena Researcher.

Rev. Arkadiusz is co-founder of the Psychotronical Society of Developing Higher Consciousness "REFUGIUM" [Refuge] in Gdansk Poland where he organized many naturopathic, spiritual and self-development workshops, lectured and led meditation classes.

In 1997 he attained MasterTeacher Degree (with the help of Rev. Robyn A. Harton) and began teaching systems of Spiritual Healing and Development called Usui Shiki Ryoho Reiki and Seichim Living Light Energy.  He also studied Theosophy, Sufism, Esoteric forms of Yoga, Tibetan Buddhism and the Western Mystery Tradition, as well as various forms of healing.

Now he is at your service as: a Teacher of Reiki/Seichim and Spiritual Counselor who lends a helping hand when you are unsure about your life path.

Rev. Arkadiusz also actively works as a Healer using his sure methods, both new and ancient, as learned from the many wisemen from the far East who regularly visit Poland. He has first used all his methods and healing practices on his own person, and then successfully worked with clients. His practice includes Reiki, Seichim, gemstones therapy, aromatherapy, Tibetan massage, healing by Nature Powers, Theurgy, chromo therapy, Chakra balancing, relaxation, Jin Shin Do, Astral Influences Clearing, Angelic Cards and Runes.

He currently leads workshops on Earth Based Spirituality (with elements of shamanism, Mysteries of the Great Goddess, Druids, and prechristian Slavic spirituality (his grandma was the village Witch), and Gaiamind awareness), contacting Spiritual Guides, Angels and Nature Spirits.

Above all, his work is about helping others discover the Beauty, Power and Light of the Divine which resides in the heart of all living beings, constantly reminding the people he works with that we never lost our connection to All Present Divine Love, Beauty and Light, only sometimes we forget. That we were, are, and will always be part of the Supreme Divine, no matter how we call it.

If you want to contact him please visit his website at www.oswiecenie.com
---
Dr.
Lüttich lives in Germany with his wife and
children. He holds a Doctor of Theology from Esoteric Theological Seminary
and is ordained as a Spiritual Minister. He holds a Master Degree
in Social Work from Duesseldorf State University (1993). He is also
certified as a Yoga-Teacher, Hypno-Therapist and Life Coach.
Dr. Lüttich is involved in the field of Alternative Medicine
and Spiritual Health. He is a Registered Member of Alternative Medicine
Practitioner Register www.apmr.in and currently enrolled in a Doctorate
Course of the International Open University for Alternative Medicines
www.altmeduniverity.net. He is the Director of the German Society
for Yoga Research , a member of the Hindu American Foundation and
a member of Ecological Democratic Party www.oedp.de.
Lüttich actively works as an Addiction Therapist using different
methods, like Yoga, N.L.P., Tantra Meditation and Behavioural Therapy.
He developed some websites, e.g. www.bayern-yoga.cabanova.de and www.holger-luettich.de
– and published his writings on the net. His book "Yoga – ein
robustes Werkzeug in der Sucht-Therapie" (engl.: "Yoga –
a robust tool in addiction treatment") is a cogent work, which
shows successful and scientific founded alternatives to conventional
addiction therapies. Currently he writes a new book about Tantra and
Married Couples.
Dr. Lüttich offers his services to the public. For contact use
email
or phone +49(0)8631/986081 or contact me on my Facebook Page
---
Pastor Elizabeth
Rufus  Rev. Elizabeth
Rufus is a Certified Spiritual Minister and Dream Interpreter who
resides in Naples Italy. She has 5 years of experience working in
hospital psychiatric settings and private practice as a Mental Health
Therapist. She is experienced in individual, family and group counseling
and has worked with adults, adolescents and children on high functioning,
low functioning, and dual diagnosis (substance abuse) units. She also
has experience working in eating disorder programs and spiritual counseling
programs. She has worked with both mild forms of shattered spirits
and some of the most chronic forms of shattered spirits (referred
to by many as mental illnesses).
She completed 5 years of undergraduate work with a focus in psychology
and 3 and one half years of graduate level work in the field of psychology.
Pastor Rufus changed fields when the Creator spoke to her and informed
her that she was given the knowledge of psychology as a gift, so that
she could teach what psychologists will not. She opened The Center
For Spiritual Growth And Healing to begin such teaching. Pastor Elizabeth
Rufus provides non-traditional spiritual guidance both in person and
using computer technology. You may chat with or email Rev. Rufus for
50 minutes of spiritual counseling, support or comforting and caring
solution focused spiritual guidance. Email the Center For Spiritual
Growth And Healing to request an appointment for a small fee (sliding
scale fees are available). Visit The
Center For Spiritual Growth And Healing  and/or Email
Pastor Rufus
---
Rt. Rev. Archpriest Dr. Antoine Yacoub – Born and educated in Cairo, Egypt, as a young man Father Antoine migrated to Australia to join his family.

– B.A from Ain-Shams University in Cairo 1971 – M.A. Pre.Hist Melbourne University 1975

– He entered Melbourne University and submitted his M.A. in History and obtained a Dip.Ed. then studied at the Pope Shenouda III Theological college and was graduated with a Dip.Th.

– Next he studied at the Catholic Seminary and obtained a Dip.Th.

– In 1996 he was ordained priest and was appointed Parish priest for St. Elias the Prophet.

-He is a professional Teacher at the Government State college, where he teaches Languages; French & Arabic, History & Social studies.

-He was appointed State Reviewer by the Board of Studies since 1990 until today.

-In 2005, He was elevated to the Rank of Archpriest by The Bishop of Melbourne

-He joined the Esoteric Interfaith Theological Seminary in 2005 and obtained a B.Th. and M.Min in 2007

-In 2008, He submitted his Thesis and obtained a D.P.C.

-In 2010 he submitted his Thesis and obtained the Th.D.

– In 2012, he Joined the Newburgh Theological Seminary and obtained a D.D.

– In 2013 He joined the Esoteric Theological Seminary, were he submitted his Thesis and obtained a Ph.D. in Religious Studies.

– Rt. Rev. Antoine has many publications in Church History, and Theology, Dogma, Comparative Religion, Teaching Arabic Language from Primary to Secondary.

-In 2009, He was given the Esoteric ministry ordination, which he accepted happily
Online-Only
Practice
Online-Only
Practice
Online-Only
Practice
Online-Only
Practice
Online-Only
Practice
---
Dr Asherah
, D.Div, M.S., LHT, LC, Author, Ordained Rabbi, Visionary, Intuitive Healer, Psychic Channel, visual and performance artist. An inspiring spiritual leader/teacher, and catalyst for change, she awakens the soul and passionate heart. Embodying the all loving energy, wisdom, and compassion, in her being, Dr. Asherah holds an unwavering belief in the power of soul purpose, and its authentic expression. Dr. Asherah is a High Priestess Shaman/ceremonialist, and has been honored and blessed in having apprenticed with internationally distinguished spiritual teachers, shamans, and gurus of many traditions. She honors all traditions and religions by weaving them into her teaching and bringing them into her healing work. A masterful teacher of the sacred sensual arts, Dr. Asherah holds sacred space in a way that severe and hidden trauma feel safe to resurface and reveal truth.

As a spiritual artist and performer, she has had the opportunity to speak to and share her gifts on stages worldwide. Her motivational presentations at various organizations, corporations, conferences, and seminars, have brought dynamic insights, resulting in both personal and professional transformation.
Serving as founder and director of two spiritual movement and dance healing centers both in the US and in Israel, her work through dance, poetry, visual art, and channeled voice song have been vehicles for people of all ages and cultures to connect with the Divine.
Dr. Asherah
Book:
Sacred Sensuality: An Erotic Soul Awakening
CD:
AsherahYOGA: The 10 Sacred Pulses
---
Richard Blackbear
is director of the non-profit California Indian
Council Foundation, a Native American shaman healer and an Ordained
Interfaith Minister. He does spiritual counseling, shamanic healings,
and spiritual blessings of all kinds.  Email
---
Loretta Bonnick ~~ Ordained Minister, Registered Nurse, Nutritional Consultant, Intuitive Consultant. With love and dedication, my ministry focuses on the healing of the mind and body. A teacher and spiritual counselor, Life Wellness Coach and Writer. Trained in Silva-Mind, numerology, astrology, palmistry, tarot readings. I will be very happy to be of service to you in any of the following areas of interest.

Consultation

Natural Health Teaching for Individual/groups

Spiritual Counseling

Intuitive Advice and Guidance

Non-denominational weddings

Baby's blessings

Life look ahead readings for 3 months, 6 months/year.

Relationship Interpretation
---
Dr.
Denise Conley, is an Ordained Interfaith Minister through the Esoteric
Theological Seminary. She has earned certifications in: Tarot consultation,
Dream interpretation and Psychic counseling. She also holds a Doctorate
in Divinity and Shamanism as well as being a member of the American
Tarot Association. Having attended Reiki Intensive and receiving attunements
through Laurie Grant, M.A., Denise is an 8th Generation Reiki Master
Practitioner. She is dedicated to helping seeker's reconnect to their
life's purpose and well being. Specializing in Tarot Consultation,
Dream Interpretation and Reiki Distant Healing, Offering Professional
Tarot Readings live on line at Keen since 2001. I can be your Personal Advisor. http://www.keen.com/healingintuitions
---
Dr. Cheryl Dusty:
Spiritual Counselor and Interfaith Minister, is an Addiction Counselor,
Mental Health Professional, Published Author, Radio Talk Show guest,
and Professional Psychic. She brings compassion, gentleness, and intuitive
insights into her counseling practice. Cheryl specializes in working
with women's issues, self esteem and identity issues, relationship
counseling, as well as those affected by living with an alcoholic
or addict. She offers free counseling to Native American women, a
free initial counseling consultation to any woman, and believes that
financial concerns should not prevent women from mental health counseling.
Cheryl is a healer, committed to empowering women with self acceptance,
recognizing their true identities and their purpose in life. Cheryl
is writing a new book, Taking Back Your Power, Over Leukemia and Other
Life Changing Diagnosis, has decided to pursue advocacy work with
her husband, a Viet Nam Vet, for the Vets returning from the Middle
East, and is a Hospice Volunteer. She is also available for Nondenominational
interfaith marriage and commitment ceremonies, house cleansings, baptisms,
and other celebrations of life. Contact Dr. Cheryl and see her web page www.cherokeeangel.com
---
Mark Erickson
holds a Doctor of Divinity and is an ordained Spiritual-Interfaith minister. He also has an M.A. degree in
Sociology and a B.A. degree in Behavioral Science. He has worked as
a Sociology Professor for two different colleges and has 15 years
experience working in employment security, staffing and training programs.
Mark offers advice and counseling in
spiritual matters and relationships. He may also be of special assistance
to individuals who want to or must seek other employment. He specializes
in both adult and youth counseling and has an additional three years
experience in drug & alcohol counseling for troubled youth. Mark
may be contacted by
email.
---
Denise Ficklin-Fitzgerald has been accepted as a candidate of the Doctor of Divinity degree program with the Esoteric Theological Seminary.  Denise holds a certified Executive Masters in Business Administration articulation from Colorado Technical University as of August 11, 2009, along with Pentecostal life experience.  Currently, Denise is studying to become a Doctor of Business Administration from Walden University online and plans to complete her self-designed doctoral study project in Intimate Partner Violence within the workplace by February 19, 2013.  As an Esoteric Practitioner, Denise's belief is in the Use of Self using musical mediation to connect the conscious awareness to the Holy Spirit by tuning into the inner voice.  Denise operates a virtual ministry and can be reached for Weddings, Funerals and Funeral Reception/Repast, or Grief Prayer at 1-888-666-1203.

Denise offers In Home Support Championship Service and Spiritual Care to families that have been informed of a wound that will not heal for a loved one.

Please visit the informational website at:  TheEsotericTransformationalChurch.org
---
Sandra L. Handley,
Ph.D, D.Div., is an Ordained Minister for the Interfaith Church Community, Published Author of "Death Is Not The End", "Healing Your Soul With Meditation", and "Living In The Light Of The Creator", and is a Credentialed Teacher – Counselor, with over 38 years teaching and counseling experience.We are all in this life together! We all have hurts, wishes, sadness, and happiness. "Death Is Not The End" is a book about my invitation to witness the first two doors of death with a dear friend. This travel would place me on the path of first hand knowledge of inner peace and lovingness that would surpass anything experienced in this lifetime. Teaching others this pathway to loving and peaceful living fills my life.Learning to adjust to the different aspects of our life can be challenging and complex. Keeping your soul intact while you deal with all of life's difficulties might seem impossible. Having a teacher-counselor who knows and can help us is priceless. My teaching helps you to nourish and heal your wounded heart; helps you to remember your soul each and every day, and most importantly, learn how to love yourself and find happiness. Learning how to cope with life's difficulties can become monumental if you do not have the tools to work with. Individual classes on Endings and Beginnings, Death and Dying, Lovingness and Healing are available to help gain those tools.Peacefulness and lovingness can be yours. Let me be your support that can make the difference between a pathway filled with struggles and conflict, to a pathway filled with lovingness, growth and purposeful intention.BlessingsIndividual instruction is available in the following courses: "A Course In Miracles", "Living In The Light of the Creator", "Knitting With Your Soul", "Death Is Not The End" and "Healing Your Soul With Meditation". Individual instruction sessions are available by phone or by email.

to schedule a time that is convenient for all.





Death is not the End
by Sandra L. Handley
---
Calesta Ana

Ana is the founder of Earth Mother Yoga and
Earth Mother Moon Ministry, is a High Priestess of Sisters in Freya's
Moon, and an Ordained Holistic Interfaith Minister through the Esoteric
Theological Seminary. She has an eclectic, interfaith background seeking
from many paths on her own spiritual journey, although her strongest
calling is to serve the Goddess. Her educational background includes
a B.S. in psychology and women's studies, with work as a counselor
and teacher. She is also certified as a yoga instructor for both children
and adults. Calesta's spiritual education also includes Priestessing
studies, mystery school, spiritual mentorship, reiki, tarot, and more.
Calesta is also a devoted wife and mother to her two young children,
and is a community activist in her town. She offers many classes for
women in search of the Divine Feminine (some examples of courses are:
spiritual gardening, meditation, tarot, priestessing, and empowerment),
along with many resources and information. Calesta Ana's online ministry
is at http://earthmotheryoga.com
or contact her at by
email.
---
Lauri
Quinn Loewenberg, D. Div., "The Dream Lady" is a Certified Dream Analyst, syndicated columnist, author, popular radio personality, speaker and member of the International Association for the Study of Dreams.

Lauri studied Dream Psychology and became certified as a Dream Analyst under the tutelage of our Seminary's founder Rev. Katia Romanoff, Ph.D. in 1996. She has since analyzed and researched over 75,000 dreams from people of all walks of life from all over this planet.

Her dream-working techniques are so easy and ground-breaking that she has been invited on The Dr. Oz Show (twice), Katie Couric, The View, Good Morning America, The Today Show (twice) and on CNN's Anderson Cooper 360 (twice) and in a CNN Dr. Sanjay Gupta special called "Sleep."

Lauri has been a recurring guest on such nationally syndicated radio shows as Oprah Radio, Art Bell's "Coast to Coast," Playboy Radio, "Nights with Alice Cooper," Mancow's Morning Madhouse, and Bubba the Love Sponge. She is a recurring guest on over forty different stations across the country, has logged over 2900 interviews thus far, and is one of the most requested guests on the morning drive circuit.

She has also been featured in Esquire, Maxim, Modern Bride, Glamour, Woman's World, Woman's Day, Prevention and Cosmo and has analyzed top celebrities' dreams for Globe Magazine and The National Enquirer London. Her Facebook FanPage is the place for dreams.

In March of 2011 Lauri released her third book Dream On It, Unlock Your Dreams Change Your Life (St. Martin's Press). She currently has a Thursday night BlogTalk Radio Show called The Dream Zone where listeners can call in and have their dreams interpreted for free. Visit her awesome dream website and tell her Katia sent you!
---
Reverend
Judith Lopez is an ordained Interfaith Minister of the Metaphysical Interfaith Church and a registered officiant for the City of New York.   She was trained for a Ministerial Degree at Southeastern College in Lakeland Florida and has studied many of the world's religions. She completed certification in Pastoral Care and Counseling at New York Theological Seminary through the Blanton Peale Program.   Rev. Lopez currently resides in Dutchess County, New York.

Reverend Lopez is a self identified Wiccan, and works with a variety of Community based organizations. She offers her services to officiate at Weddings, vow renewals, handfastings, commitment ceremonies, funeral and memorial services as well as many other rites of passage. Please email her for more information.
---
Reverend
Salima N'Dulu is an Ordained Minister through the Esoteric Theological Seminary. She is also a writer, counselor and spiritual advisor. She is available for weddings, funerals, house-blessings and private/family/group counseling sessions.

She is also available for motivational speaking engagements, seminars and workshops. Her dream is to open a spiritually based wellness center, focusing on the most important parts of us, our minds, bodies and spirits.

She has studied various world religions and spiritual organizations and plans to incorporate that knowledge into something that will help all kinds of people in their search for spiritual peace and joy.

Rev. N'Dulu can be reached by email: or by phone: 754-204-4404

Port in The Storm Interfaith Ministries in Fort Lauderdale, Florida

Port in the Storm's website is brand new in 2013 and will be up and running soon

Rev. Salima K. N'Dulu
Minister/Counselor

Port in the Storm Interfaith Ministries

754-204-4404

"It takes a village to raise someones spirit, let's work together to help raise up one another." Salima N'Dulu

 
---
Rev. Tamu Ngina is an ordained Interfaith Spiritual Minister through the Esoteric Theological Seminary. She received actual live in person laying on of hands ordination in Pennsylvania from Rev. Katia Romanoff.

She specializes in spiritual healing modalities as a Reiki Master Teacher in both Western and Japanese lineages, Chakra balancing, Spiritual Aromatherapy and also holds a diploma in Therapeutic Reflexology from Lehigh Valley Healing Arts Academy and a Bachelor of  Spiritual Healing degree from Reiki Blessings Academy.

She is continually educating herself and building her spiritual practice to better herself and service to you.  As an ordained minister she is dedicated to her own  inner peace,  healing  and spiritual growth.  It is through this dedicated commitment that she reaches out in service to others.

Helping others to arrive at their center of peace in mind, body and spirit is her mission in life.

Rev. Tamu Ngina is available for energetic healing sessions, life cycle events, blessings for the home and spiritual prose/prayer writing.

For more info visit: http://TamuNGina.com
---
Melanie Ruiz
 As a gifted psychic I want to welcome
you to spend some time with me. First I want to give you a little
background about myself. I have been reading professionally for the
last 15 years.  I'm also a certified Tarot Master with the Esoteric
Theological Seminary. I also studied with many other Spiritualists
and Mediums. The readings I give are always DETAILED, CARING and EXTRA
CONFIDENTIAL.

Here are some of the readings I will do for you:

Psychic Readings
Tarot Cards
Orisha Cards
Candle Readings
Gem Stone Readings
Coffee Readings
Sun Signs
Dream Interpretations and more..

The items above can be used for an even more in depth reading per your request.

Everything Extremely Confidential

P. S. Most of my clients are Readers and Psychics — a few even work on KEEN.com. Please take a minute to see my Keen.com page, and read the reviews of some of my clients. That may help you decide whether or not I'm the right reader for you. I hope to hear from you soon.

Blessings,   Melanie
---
Rev.
MaryEllen Stover
My name is Rev. Dr. MaryEllen Stover. I am an Interfaith Minister
ordained through the Esoteric Theological Seminary. I am a certified
Spiritual and Prayer Counselor and a certified Crystal Healer. I have an online Prayer Shawl Ministry that
includes my love of crochet with the Spiritual need for solace and
comfort through my online site at Dr. Maggie's Prayer Shawl Ministry.
I'm looking for people interested in joining my Prayer Shawl Ministry
efforts with donations of Prayer Shawls or who might know of someone
in need of a little comfort and caring. If you would like to be
a part of this giving and caring Ministry please contact
me or find me on Facebook as MaryEllen Stover. (Magdala-Sophia is my magikal name at the Esoteric Mystery
School and I sometimes go by "Doctor Maggie").
---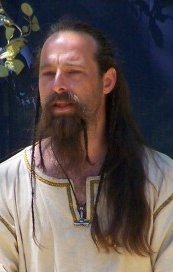 Runagoði
Gary L.R. Sublett II, ThD,
a.k.a. Kjartan Gerrisson, is available for spiritual guidance, and
facilitation of specific rites pertaining to the elder ways of heathens
dedicated to the pre-Christian ways of the northern peoples to the
Gods and Goddesses of the Æsir, Vanir, and outer-world beings.
Following many years of academic research and practice in the elder
ways of the heathen northlands, Kjartan now dedicates his focus
towards the philosophical interpretation of the elder ways in association
and practice in modern times. Specialized research includes the
practice of Runes.
As a member of the Northvegr Foundation, serving on the Board of Directors, Director of Fund-raising, and as the Interfaith Representative, Kjartan's current endeavors include fulfilling one of the many foundation's goals of providing, through a cooperative effort of other non-profit foundations, audio books on CD to sight impaired or dyslexic people, to those who are audio learners, and to provide books in Braille. Another effort is to establish the means for the Northvegr Foundation to produce its own publications. Kjartan also makes himself available to juvenile offenders in his area for counseling. For information on the ways of the Old Norse and Viking Religion, go to: www.northvegr.org
Contact Kjartan by
email or his Facebook Page
---
| | |
| --- | --- |
| | Rusty Sherry Ann Taylor, a Spiritualist guided by the Native American teachings. Has received a BA degree in Spiritualism & Natural Healing. Will perform Weddings in the Great outdoors. We call our gathering place(s): "Prayers on the Winds" I council young and old as well as inmates. I strive to heal the wounded soul, and teach others to Trust in the goodness of the Great One. If you have a loved one wanting to ready themselves for the Campfires in the Sky, I am glad to spend time with them. I perform cleansing ceremonies as well as funeral ceremonies. Contact me by email. |
---
Reverend Maria T. Vidal

:

I have been in the medical field for over 20 years including Holistic Healing. I am a Certified Massage Therapist, Reiki Master, Spiritual Counselor and Healer. My unique ability through the Divine has enabled me to facilitate the healing of many of my client's physically, emotionally, and spiritually. My healing session's includes a combination of Massage, Energy Work, and Spiritual Counseling. I also do long distance healing for my clients and their beloved pet's, house and office blessings/clearings.

My sincere seeking of the Divine has led to many years of studying many different faiths. Although raised Catholic, I have studied the different denominations within Christianity, Buddhism, Hinduism, Judaism, and the Mystical. I have truly concluded that, "Truth is One, but the sages speak of it by many names." Because of this most wonderful and beautiful knowledge, I was ordained by The Esoteric Theological Seminary as an Interfaith Minister in July 2009. It was honestly one of the happiest days of my life. My love of the Divine and making a difference in people's lives has taken me through a memorable and fascinating journey.

I live in Orange County, California and can be reached at 714-357-1202. I also do home visits for your convenience and comfort.

I can be reached via email.
---
Our Practitioners Directory is under continual construction. You and your practice could be listed here!
{If your entry has gone missing, your contact info was a dead-end
when we checked it.  Please email
us with your updated directory entry, and we'll post it here again.}