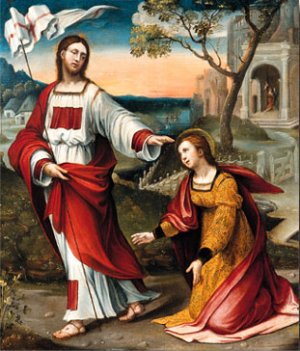 THE RISEN ONE
by Rainer Maria Rilke
Until his final hour he had never
refused her anything or turned away,
lest she should turn their love to public praise.
Now she sank down beside the cross, disguised,
heavy with the largest stones of love
like jewels in the cover of her pain.
But later, when she came back to his grave
with tearful face, intending to anoint,
she found him resurrected for her sake,
saying with greater blessedness, "Do not –"
She understood it in her hollow first:
how with finality he now forbade
her, strengthened by his death, the oils' relief
or any intimation of a touch:
because he wished to make of her the lover
who needs no more to lean on her beloved,
as, swept away by joy in such enormous
storms, she mounts even beyond his voice.
(Rainer Maria Rilke, New Poems, Second Part, 1908)
(translation, ANN CONRAD LAMMERS, 1998, 12/10/98)
http://www.btinternet.com/~b.phillipsdevaney/cwo/rilk1.htm
---
~Mary Magdalene and The Other Mary: A Song For All Maries~
~by Christina Rosetti~
OUR Master lies asleep and at rest:
His Heart has ceased to bleed, His Eye to weep:
The sun ashamed has dropped down in the west:
Our Master lies asleep.
Now we are they who weep, and trembling keep
Vigil, With wrung heart in a sighing breast,
While slow time creeps, and slow shadows creep.
Renew Thy youth as eagle from the nest;
O Master who has sown, arise to reap:
No cock-crow yet: no flush on eastern crest:
Our Master lies asleep.
---
~~ THE NEW MAGDALENE ~~
By John Cowper Powys, 1916
She turns her head with a sick heart
from the crowd with burning eyes
She flees to the woods apart
Where the the old world's shadow lie.
And there in the leafy gloom
With her white face hid in her hair,
She moans the unpitied doom
Of the flesh that's born too fair.
Softly with amorous tread
from the dark a Satyr creep
And standing close to her
Watches the wanton weep.
Like the mask of a thousand years
The lust in him drops away
And big immortal tears
Make a grave in the clay.
And gently on bended knee
He worships the wanton there.
Pouring the old world litanies
Into her flowing hair.
And the heart of the old world then
Flings forth its ancient balm
And the burning eyes of men
Can work her no more harm.
---
Poet Wynn Manners writes: Here's one I've deeply appreciated by YeshuaMirya
listmate Eric Ashford, hardly "famous" yet, but, a century from now, maybe
Eric will have entered the ranks of the Greats — in human memory!
LOVERS
I forgot to mention how you look to me.
I just keep talking about God.
Keep saying my prayers into an incomplete idea.
Yet, this sweet flesh of you is God
and these arms you give me to embrace
and the tummy you offer as my pillow
and the mystery of the threshold and entering of your lotus –
these are the divine surrenders of we children,
and these the rosary beads of our passion play.
I remember when Jesus loved Mary Magdalene so,
making a rose of her bedroom heart
and moving into her as a wave of abandoned lust.
She said, Lord, forgive me
and he wept such bitter tears as he laid with her
and comforted himself in her perfect love.
Of course, he was only a man then,
it took generations of lies to make him less than God.
Yet those lovers gave birth to so many children of awareness
and now we also can live together as God
and smell the holy desire of our bodies as Jesus did.
Our children will inherit the earth, as they always will do.
They will claim heaven as a creation of their love
as they should do.
And all will pass away but this body of Love.
I forgot but now I remember. Lovers need constant kisses.
All will remain in this body of love,
and my love, I know we look like this –
As the body of one soul reflected in another
looking into the unimaginable
with the courage of lions,
and the heat of our hearts giving birth to eternal suns.
______________________
Copyright January 2004 by Eric J. Ashford
---
AND — if any here be interested, most of my own poetry focused on Yeshua
& Mary Magdalene can be accessed here:
http://www.cosmicwind.net/800/Cmwl/SiteMap/CmwlSiteMap.html
Once there, please see the following:
2.) all our closenesses remembered
13.) spouse of heaven, come to earth
15.) once upon an eostre morning
16.) how often she would remember
Cheers!
~~wynn manners
---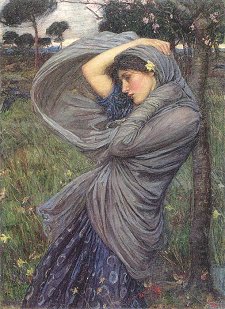 WHERE IS THE WORSHIP OF ME?
by Sonja
I am the breath and the life.
I am the pleasure, I am the pain.
Where are my sons and my daughters?
Whom you have sent away?
Where is the worship of me?
In the form of love, not ceremony
Where is the respect of me?
In the ways of remembrance.
When will you look up your destiny?
Why do you deny your sons and daughters?
When I look for mine, gather them to me.
Why have you prostituted your own?
Where a daughter is exposed,
A son is shamed.
Have you brought forth life?
Have you looked into their eyes?
The sin against the Holy Spirit
Will not be forgiven, this time,
Nor ever.