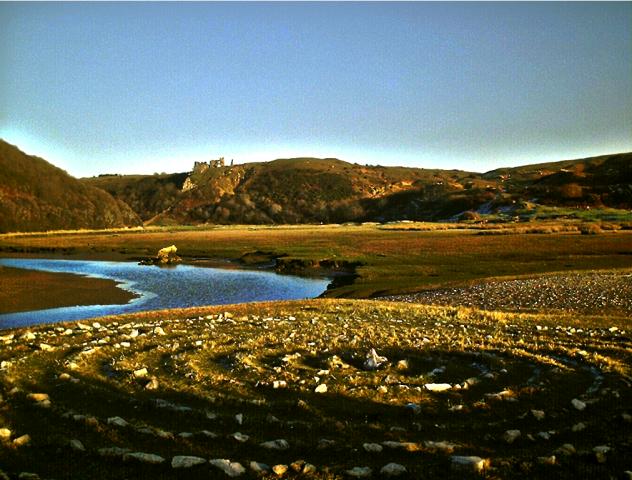 Read Chapter 8, pages 129-136 Treading the Labyrinth, in Oak Ash and Thorn by DJ Conway.
Note the photo at right showing a Celtic Labyrinth constructed in Wales in prehistoric times.
Copy the questions below into an email, then insert your answers and email to the Mystery School with OAT 8 from ____________ (your magikal name) in the subject line. Be sure to do the exercise, too, and report on it in the same email.
1. What were the purposes of labyrinthine artwork?
2. What word is often used interchangably with labyrinth?
3. What is the difference between the two?
4. T/F Labyrinths were not known outside Crete during ancient times.
5. Compare the spiral, the labyrinth, and the shamanic journey.
6. Journeys should be made for very specific reasons: __________, __________, __________, and _____________.
7. What are the earth energy lines commonly called?
8. Why should the shaman become accustomed to walking the labyrinth?
9. Which deities are often found in labyrinths?
10. T/F The labyrinth can help you learn which experiences are actually important and which are only important due to social pressures.
Exercise:  Do the Treading the Labyrinth journey on pages 133-135. Report on your experiences.
Top | 1st Celtic StudyHall | 2nd (Veli) Study Hall
Questions designed by Deborah (TraceyDeb)
Northern Way Study Halls  | Veli Celtic Study Hall | Top | Site Map

Credits:
Page Design & Misc. Graphics~ Caileadair
Updated: 5/10/07